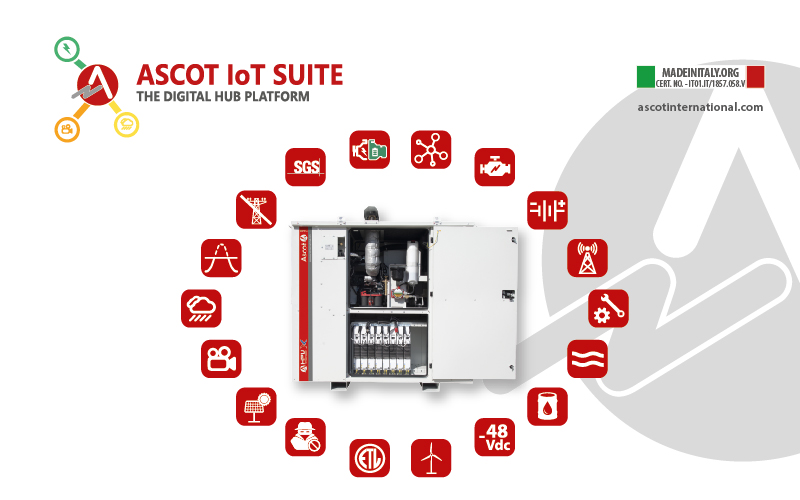 The Ascot IoT Platform in the 5G era
Ascot IoT Suite - The 5G digital energy revolution
The "Ascot IoT platform is a place where the IoT is used to achieve savings and also additional income streams, sharing the same infrastructure and thus optimizing investments".
The 2 pillars on which the Ascot IoT is based:
- Smart Energy uses the IoT to improve itself through Edge Computing
- Digital Energy provides both energy and IoT to move towards grid-level energy efficiency.
Even the most remote site, if reached with digital energy, therefore becomes a smart environment where it is possible to obtain innovative services eg. Edge Computing, Building Management System and IoT-based intelligent services.
Ascot proposal in the 5G era
Established hybrid generation systems, IoT technology, high efficiency battery management, smarter O&M, remote connectivity, are all integrated into the Ascot digital HUB providing the following additional benefits and revenues.
- Reduction of site downtime to zero
- Significant reduction of OpEx
- Increase site security
- Facilitate NOC operations
- Reliable hybrid power generation
- Edge Computing (maintenance logic, OpEx and analysis)
- Full compatibility with all sensors
- Intuitive dashboards and reports
- Secure data management
- Interoperability with customer platforms
Ascot's idea is to bring intelligence to those sites that will allow the tower owner to save on operating costs and add many new services that could generate multiple new opportunities.