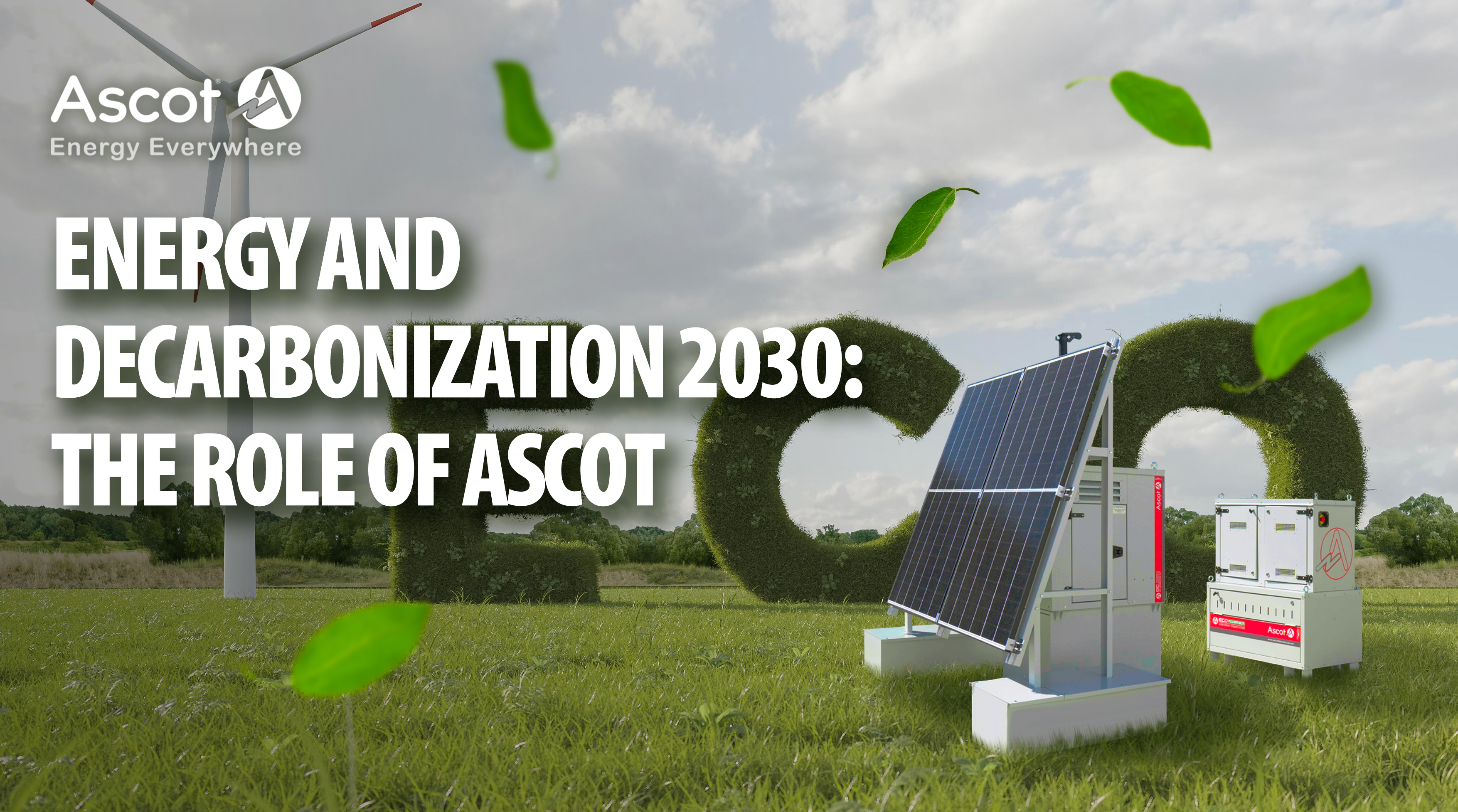 Energy and Decarbonization 2030 Target
The role of energy and related machinery in achieving the 2030 decarbonization targets
Ascot has always been committed to generating energy while respecting the environment.
That is why in this article we address the topic 'energy and decarbonization 2030'.
In addition to being the first in the energy sector to take the path of reducing CO2 emissions, we are a company enabling the ecological transition required by the European Union.
It is a programme to make the energy production and lifestyle of citizens more sustainable and, consequently, less harmful to the environment.
To tackle climate change and environmental degradation, the EU has in fact established a series of actions as part of the European Green Deal.
One of the major goals of the European Green Deal is decarbonization, which is the prerequisite for saving the planet.
Decarbonization means the progressive removal of carbon through:
the elimination of the use of fossil fuels (coal, gas and oil)

the switch to clean and renewable energy sources
Achieving carbon neutrality means having the perfect balance between CO2 and greenhouse gas emissions and their absorption through innovative technologies.
This will lead to a zero-impact development model, with zero emissions into the environment, to curb climate change and global warming.
In this scenario, the ecological transition is closely linked to the energy transition. There is a move towards more sustainable energy production, with a gradual abandonment of fossil fuels in favour of renewable energies.
The 2030 decarbonization and 'green deal' targets
Currently, energy production and use account for more than 75% of the EU's greenhouse gas emissions. This is why one of the main objectives of the European Green Deal is the decarbonization of the energy system to:
reduce net greenhouse gas emissions by at least 55% by 2030, compared to 1990 levels
achieve carbon neutrality by 2050
It is therefore necessary to accelerate the transition to a greener energy system, capable of making Europe the first climate-neutral continent in the world.
This requires replacing fossil fuels with renewables for electricity production, with a parallel spread of distributed and centralized storage systems, and with investment in grid infrastructure.

The role of energy and machinery in achieving decarbonization
The engine of decarbonization is electrification.
In order to lower emissions and combat climate change, action must first be taken in the energy sector,which is the main contributor to CO2 emitted into the atmosphere.
The transition is therefore to replace fossil fuel-using machines with technologies that use electricity from renewable sources.
This requires digitizing electricity grids and plants and integrating new smart technologies. This will lead to smart and efficient infrastructures capable of handling increasing volumes, guaranteeing energy system stability and security of supply.
Achieving a sustainable and reliable energy system will require:
the move from a centralized to a distributed set-up based mainly on renewables

promote energy efficiency in all sectors

generate cheaper energy

achieve energy savings

increase the use of electrical renewables

achieve circular models



How hybrid-powered solutions help achieve decarbonization targets
For us at Ascot, sustainability is a goal to which we pay great attention.
A goal that led us, in 2007, to be the first in the world to install a Hybrid System Generator.
Our hybrid energy systems combine different renewable energy sources. They enable independence from fossil fuels, guaranteeing power stability at all times because they use energy more efficiently. This is made possible by battery energy storage systems and intelligent power management.
All our hybrid energy solutions are already in line with the SDGs and decarbonization goals 2030 and 2050 because they ensure:
lower fuel consumption
minimized environmental impact
promotion of renewable energy
Discover our HYBRID-POWERED product range

How (eco-powered) hybrid solutions help achieve decarbonization targets
Another zero-emission Ascot technology is the Eco Power Box clean energy storage system.
It is an all-in-one solution integrating storage battery, control inverter and remote control. It provides quick connection to the input (grid/solar/generator) and quick connection to the load (DC or AC loads).
It allows energy generated by the sun or the grid to be stored in the batteries present so that it can be used when needed, guaranteeing stability and continuity of service.
EPB is also already in line with the EU's 2030-2050 Decarbonization Goals as a clean and environmentally friendly product with ZERO emissions.
At Ascot we are constantly working to fortify a model of sustainable and circular development, capable of protecting the planet by reducing pollution and combating climate change, in line with the ecological transition demanded by the European Union.
Discover all our ECO-POWERED solutions


Contact us for more information.