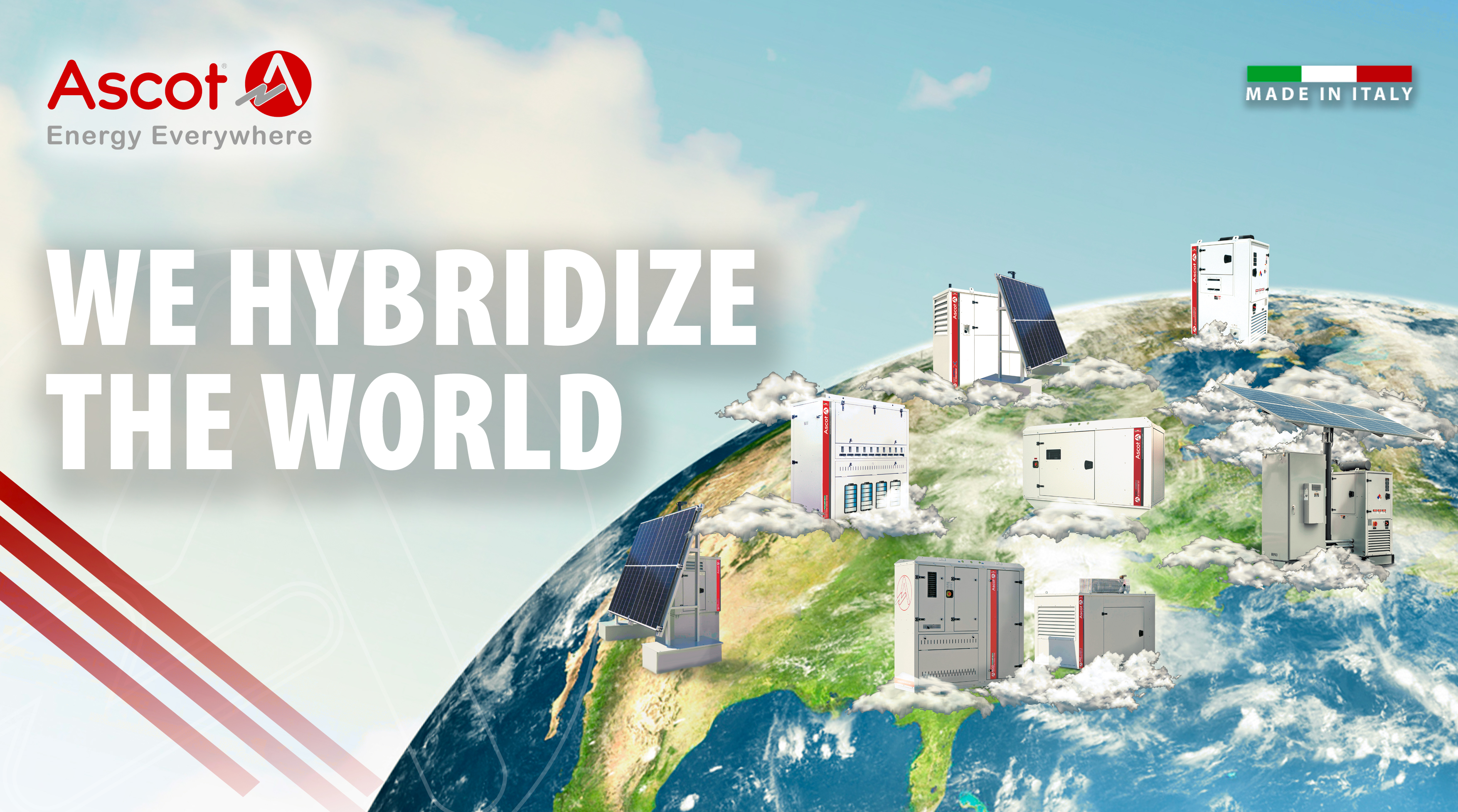 Hybridizing the World: over 35,000 Ascot generators installed in more than 60 countries
Hybridizing the World: over 35,000 Ascot generators installed in more than 60 countries
It was in 2011 when the telecommunications industry started talking about hybridization, a date that Ascot had already widely anticipated. In 2007, our company designed the first prototype of a hybrid unit in this sector.
That same year, the first Ascot Hybrid units were implemented in Sudan, replacing existing 24/7 operating generators.
It was the second energy revolution in telecommunications, five years ahead of any other company. Just three years later, in 2010, Ascot developed the first hybrid control logic for renewables.
Since then, Ascot has continued to install hybrid generators worldwide, becoming the pioneer and leader of hybrid solutions.
The evolution of Ascot in the world
Since its founding in 1986, Ascot has always focused on internationalization through a process of growth, innovation, and development in every part of the world.
In 1994, our company was awarded in the Defense sector (China), which allowed us to obtain the implementation of the NATO AQAP-110 Quality System and, three years later, a contract with the Italian Ministry of Defense.
From that moment, our path of internationalization followed two parallel roads. On the one hand, the opening of service centers, departments, and branches around the world, allowing us to strengthen our presence in foreign markets and develop new strategic areas for our business.
We currently have:
Ascot Technologies in Milan, the department that deals with R&D projects and designs premium products, special solutions, and innovative systems.
Ascot Dubai Branch, a new branch to consolidate and develop our presence in Africa and the Middle East.
Ascot Representative Office in Houston, to develop our business in America.
Ascot Headquarter in Gela, where Ascot products are manufactured.

Ascot Industrial Roma, the company's legal headquarters.
At the same time, we worked to constantly improve our products. We added new special features to our hybrids, such as remote management systems and hybrid control logic to use renewable energy. This allowed us to offer the market the highest quality standards and spread Ascot solutions worldwide.
To date, over 35,000 Ascot generators have been installed in more than 60 countries in Europe, Africa, the Middle East, Asia, Latin America, and the United States.
Not only that: Ascot hybrids are ready to positively change and influence a new major market such as the United States and Canada.
Ascot's latest installations worldwide
Recently, Ascot has further increased its presence in the world with new installations.
In 2019, we installed hundreds of Hybrid Power Units (HPU) in Haiti to reduce fuel consumption and have reliable power in the country's remote telecommunications sites. We brought our HPU equipped with Remote Control for off-grid telecommunications sites in the deserts of California, Colorado, and Nevada.
Also in Nevada, we installed our HPU GPL to ensure an ecological and reliable system in an off-grid area, obtaining significant savings.
Ascot is also present in Peru and Kenya.
In Peru, we brought our HPU DC to power remote telecommunications networks in Chiclayo. In Kenya, we contributed to the spread of Green Energy by installing our hybrid solutions at their Telecom headquarters.
Green Energy is also present in Morocco, where our hybrid solution with lithium batteries and solar panels has reduced operating hours and polluting emissions.
Only in the last decade, we installed our systems in:
Mozambique

Nigeria

South Africa

South Sudan

Senegal

Tanzania

Iraq

Jordan

Qatar

Saudi Arabia

Cambodia

Indonesia

Myanmar

Papua New Guinea

Philippines

Sri Lanka
A global experience that has rewarded us in 2023 with Ascot's inclusion in the Champions of Export 2023 ranking.
Ascot's contribution to the process of hybridization in many countries thanks to its solutions
The global demand for energy is growing exponentially. Similarly, clean and renewable energies are increasingly replacing fossil fuels.
The hybridization of the grid is one of the main technologies to meet the new demand and supply and to reduce energy consumption and associated costs, while respecting the environment. A technology that Ascot has years of proven experience in, greater than any other company in the industry.
This allows us to offer hybrid energy solutions already in line with the SDGs and decarbonization goals for 2030 and 2050, ensuring:
less fuel consumption

minimal environmental impact

promotion of renewable energies
Our hybrid solutions contribute to strengthening the sustainable and circular development model. They therefore help protect the planet by reducing pollution and combating climate change, in line with the ecological transition required by the European Union.
In addition, being independent all-in-one and plug-and-play modules, they ensure much safer and more versatile system operation.
Discover our range of HYBRID-POWERED products!