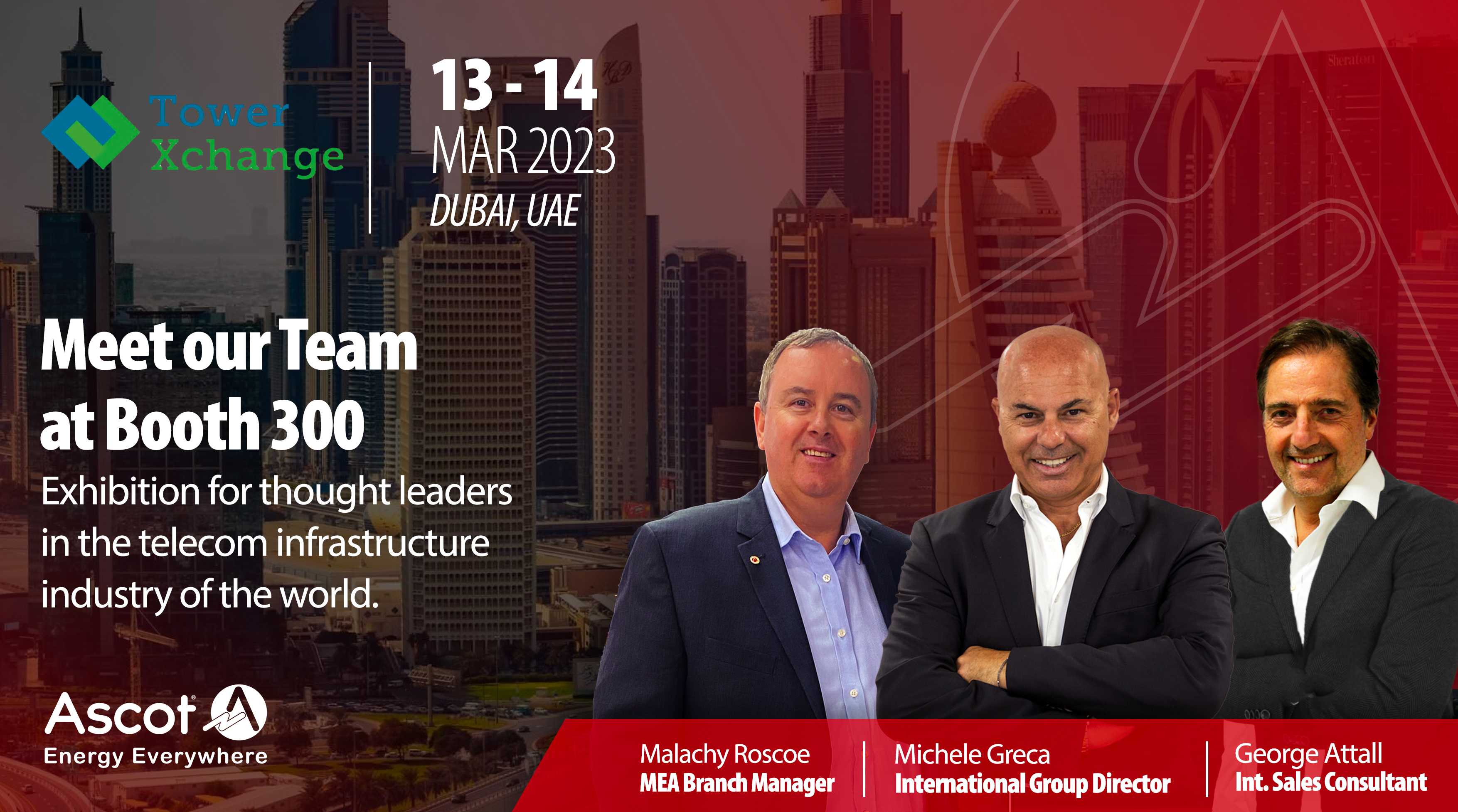 Ascot participates in the TowerXchange Meetup 2023
Ascot is participating in the TowerXchange Meetup Mena 2023 in Dubai
Ascot will be present at the TowerXchange Meetup Mena 2023, the exhibition dedicated to the global tower industry for telecommunications in the MENA region (Middle East and North Africa).
You can find us at Stand No. 300 at the Le Meridien Hotel in Dubai on March 13th and 14th, 2023.
TowerXchange Meetup Mena represents the exclusive meeting point for Tower Operators and Tower Companies, bringing together the main global protagonists in the sector and is aimed at Decision Makers.
It is a great opportunity to follow the rapidly developing TowerCo sector in the region and discuss its future. Ascot, a world pioneer in hybrid generators in the telecommunications sector, will also be a Bronze sponsor of the event this year, as in many years past, presenting its innovative and tailor-made solutions.
Ascot at TowerXchange Meetup Mena 2023: the themes of the Dubai Fair
In recent years, there has been rapid evolution in the tower market in MENA, which will be followed by a growth phase for TowerCo throughout the region.
The telecommunications infrastructure industry is undergoing drastic and rapid changes, with a strong acceleration of network implementation and digital infrastructure evolution.
The market is opening up to new opportunities and new players, both regional and international.
Therefore, TowerXchange Mena 2023 is a fundamental appointment for the telecommunications infrastructure sector in the Middle East and North Africa.
There will be many interesting themes discussed and analyzed during the two-day fair:
North Africa: a region that, by opening up to tower activities, represents a new frontier for the TowerCo model.
Regulation: with the MENA tower sector on the rise, there is a need for new infrastructure sharing.
Energy: new tools are needed to manage the increase in energy costs and ESG reporting in a region traditionally dependent on economic hydrocarbons.
Small Cells: 5G macro-layer live networks and low-latency network densification.
Digital Infrastructure: in a transition towards a digital future, even the Middle East will have to switch to digital infracos.
Site Management: the digitization of assets will lead Towercos to use new technologies.
There will be many roundtables, interactive sessions, insights, and speakers who will contribute to a successful exchange of the latest global practices for the expansion and development of the market.
The innovative system presented by Ascot at TowerXchange Meetup Mena 2023
Ascot's stand, No. 300, will present a solution developed for the specific needs of TowerCos and Esco.
An important support that helps Tower Operators (tower owners) effectively control the increased site load power due to the addition of Tenants that leads to an increase in traffic.
It is a system composed of:
Hybrid Power Core (a DC generator composed of Ascot Hybrid Logic)
Energy Storage System (lithium battery cabinet)
The advantage of this system is that it is modular and scalable and allows operation without changing the main infrastructure. In fact, even if Tenants are added over time, there is no need to change the main infrastructure, but it is sufficient to add a battery bank for each Tenant.
This will allow Telecommunication Tower owners to have greater operational efficiency and maintenance, increase revenue, and reduce costs.
Ascot's commitment aims to raise the level of the telecommunications sector in the region and provide new value to towerco players.
Contact us for more information or come visit us at the TowerXchange Mena 2023 Fair in Dubai.