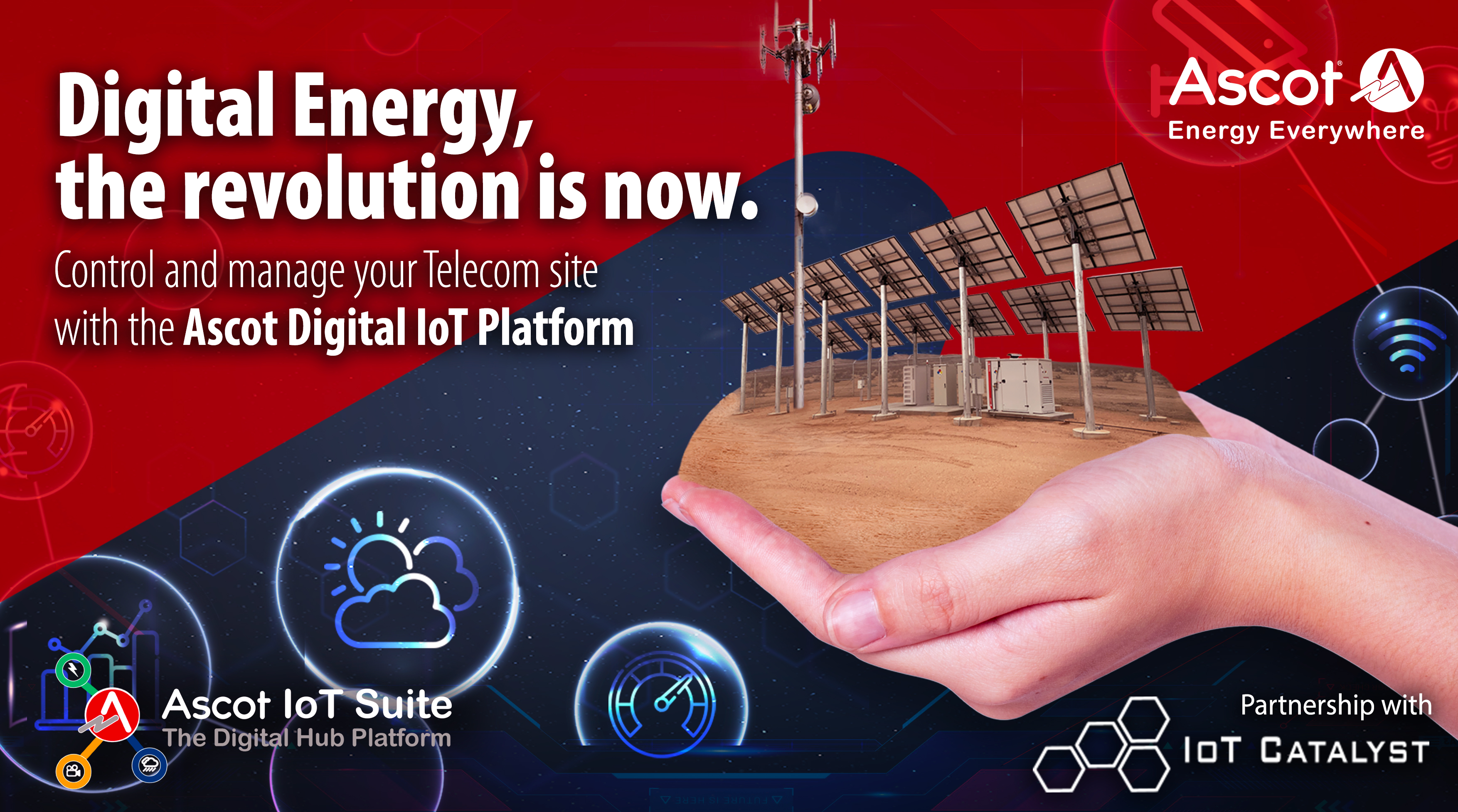 Digital energy in the telecommunications sector for remote sites (off-grid areas)
Digital energy in the telecommunications sector for remote sites (off-grid areas)
When it comes to energy, one figure should make us think: about 620-670 million people will still not have access to electricity by 2030.
Without adequate energy solutions, these areas of the world risk having to feed themselves with expensive, harmful and polluting fossil fuels, significantly slowing down their socio-economic development and their connection to the most modern services and technologies.
Ascot's mission is to bring electricity to off-grid areas, that is, where there is no network or where the availability of electricity is unstable.
Through cutting-edge solutions and technologies, Ascot wants to offer access to energy and energy independence even to the most isolated places in the world.
A mission that is linked to the need for a universal energy transition towards a more sustainable future, reachable through the synergy between telecommunications, industrial automation and energy.
In this direction, Ascot has entered into a new collaboration with IoT Catalyst (a Relatech * group company), a company specializing in Industrial IoT.
A Partnership aimed at the development of a PaaS (Platform as a Service) platform that will be implemented in over 34,000 installations of our Company in the world to bring digital energy to over 60 countries.
Digital energy in off-grid areas: what it is
The energy sector is undergoing major changes, as is the way electricity is distributed.
It is therefore not new that the term digital energy is increasingly used and closely connected to the concept of Smart Grid to talk about the revolution that is affecting the world of electricity and telecommunications.
The direction is that of an "intelligent network" which, thanks to the use of modern digital technology, transforms:
Energy production: the focus is on renewable, clean and low-impact energy, with smaller plants located throughout the territory that communicate with each other and replace the current large production centers mainly fueled by fossil sources (gas, coal , oil, etc.)
Energy distribution: a more modern, flexible and capillary decentralized network with multiple lines, for rapid, simple, effective and remotely controllable distribution
The diffusion of energy: cables and transmission lines are small and numerous, with supporting storage systems that minimize overloads and variations in electrical voltage and eliminate supply interruptions
Energy management: networks capable of intelligently communicating with each other and storing and processing valuable data, for maximum resource optimization
Energy efficiency: the new smart grids guarantee a reduction in waste, consumption and emissions through automatic and efficient management
The combination of renewable energy, smart grid and digital energy therefore represents the standard of the future. The "old" centralized system will have to give way to a decentralized, multidirectional and decarbonized smart grid.
A challenge that Ascot welcomes and faces with an extra plus: exporting this new model also in off-grid areas where electricity is not yet available to eliminate energy poverty and support fair development.
The vision is very simple: even the most remote site, if reached with digital energy, becomes an intelligent environment capable of providing innovative services such as Edge Computing, Building Management Systems and intelligent services based on IoT.
A vision that Ascot has also realized by becoming a bronze sponsor of TowerXchange Meetup Africa 2022, the international exhibition dedicated to the Telecommunications Sector which was held in Johannesburg (South Africa) on 11 and 12 October 2022.
Ascot solutions to encourage digital energy in remote sites (off-grid areas)
Ascot's first step is to transform its generators into technological hubs capable of performing Edge Computing operations specifically designed for large infrastructures.
The second step is to export these Technology Hubs to off-grid areas.
This is to ensure continuity of energy, greater efficiency, maximum savings and additional income flows even in places without a connection to the electricity grid and in the most extreme conditions.
Operation possible thanks to the IoT which guarantees the generators new features including:
Data collection and analysis

Monitoring of climatic conditions and performance

Cyber ​​security

Complete control of the network and the site, even remotely

Total control of all components (panels, cylinder, telecommunication tower, etc.)

Reliable power generation

Integration of renewable energy

Predictive maintenance

Optimization of investments
Ascot puts its smart and renewable energy solutions at the service of a continuity of electricity in off-grid areas, to generate multiple new opportunities and a richer and more sustainable future.
For more information and specifications, contact the Ascot Team!
* IoT Catalyst is a part of the Relatech Group, Digital Enabler Solution Know-how (DESK) Company. Relatech SpA, listed on Euronext Growth Milan since June 2019, supports companies in the digital transformation process through innovative digital services and solutions developed on modern frontier Digital Enabler technologies, such as Cloud, Cybersecurity, Blockchain, Big Data, Machine Learning, Artificial Intelligence , Internet of Things.