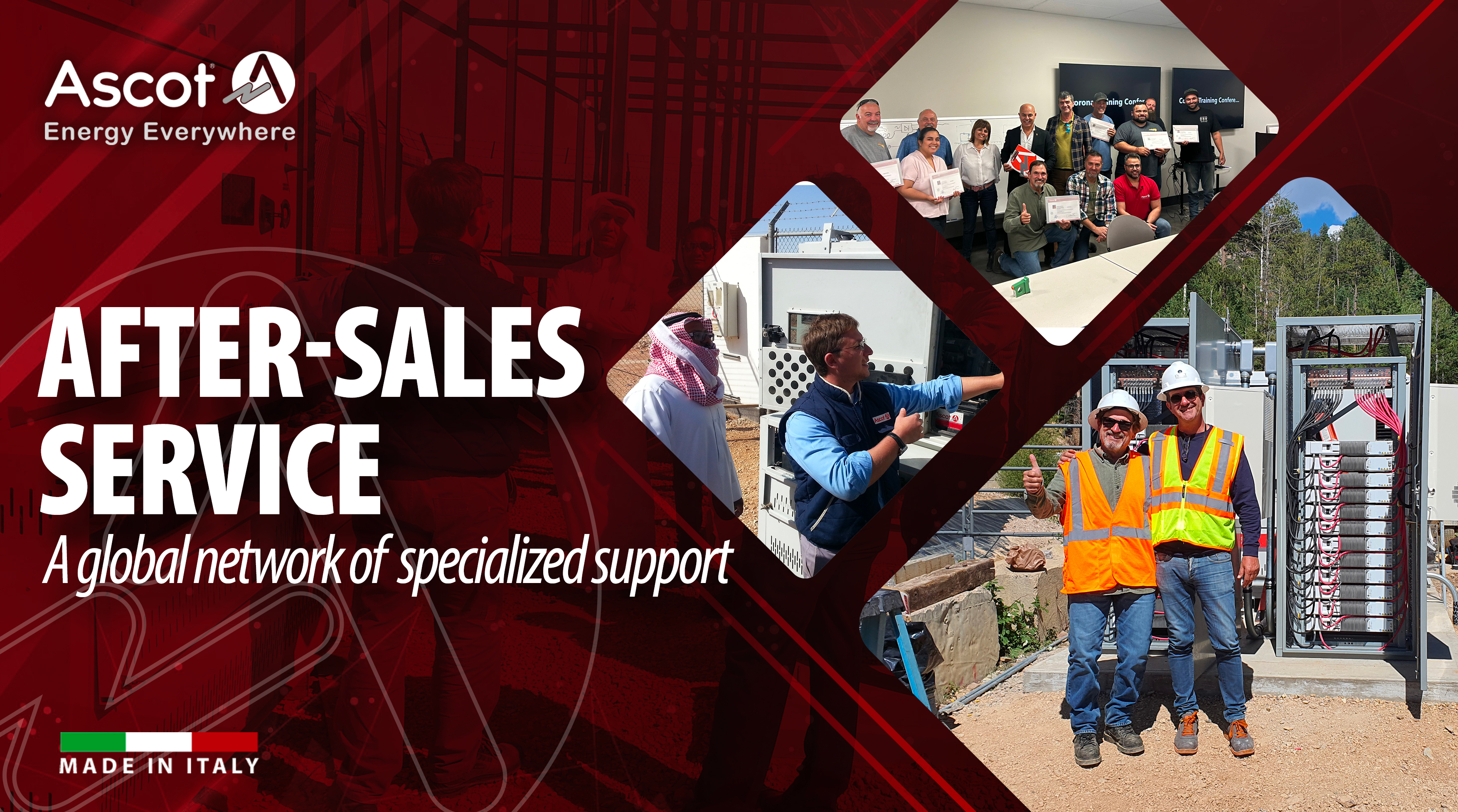 The after-sales service of energy solutions provider Ascot
The after-sales service of energy solutions provider Ascot: a global network of specialized support
At Ascot we attach great importance to the initial consultation and customised project developmentphase, but we also pay great attention to after-sales.
As a consulting company and technology partner in the energy sector, it is crucial for us to guarantee timely and comprehensive support to all our customers and specialized, high-quality maintenance for each Ascot product.
Through a global network of specialised Ascot-Partner service partners, we provide a number of key services.
These allow us to ensure a positive and highly satisfactory experience for each customer throughout the life cycle of the purchased solution.
An overview of Ascot's after-sales service and why it is crucial for the energy sector
The energy sector is not only one of the most important, strategic and complex sectors of the world economy, it is also undergoing constant transformation and digitization.
For this reason, companies operating in this sector must guarantee a useful, high quality and valuable customer experience.
At Ascot, we focus on timely, transparent and personalised after-sales service, providing careful handling of any issues and a thorough understanding of customers' needs and expectations.
Our goal is to provide state-of-the-art, customisable power generation solutions, helping customers get the most value from their investments.
The pillars of Ascot after-sales service
Ascot's strength is having service partners all over the world.
Each of these is equipped with an on-site service centre with a specialised team of qualified and certified Ascot technicians at your disposal at all times.
In addition, we have a ready network of Service Technicians to provide all-round support directly on site. This allows us to ensure fast response times and consistently high product efficiency.
Ascot also ensures immediate stock availability of specific spare parts to help maintain consistent productivity for customers.
We also provide training courses for local technicians both at our centres and at companies, to share and pass on our lengthy experience in the industry and our know-how
Globalized service network
We have developed a global Ascot-Partner specialized service network.
The heart of this network is the Centralized Service Center based in Italy, which coordinates the many Ascot Partner Service Centers located in strategic locations around the world.
So we can be actively present in all markets and get closer to our customers and partners anytime and anywhere.
Service solutions always available
Online support is the flagship of Ascot's after-sales services.
Through our Web Platform, every customer can communicate with us in real time and have a safe and timely 'first aid' in case of need.
A team of specialised technicians is available 24 hours a day, 7 days a week to solve any problems that may arise during the normal lifetime of the product.
Supply of spare parts: a long-term commitment
In the energy sector, the availability of spare parts is crucial to ensure continuity of service.
If a component of the system fails or malfunctions, it must be replaced as quickly as possible to avoid interruptions in the power supply.
For this reason, we have developed an international spare parts distribution system that allows each Ascot Service Centre to guarantee extensive stock availability.
This makes it possible to always respond to customer needs in time, avoiding product trips to other destinations.
Team of specialized technicians
In order to be able to provide timely and specialised on-site assistance, we have set up a network of Ascot Flying Doctors (FD) ready to intervene when needed.
It is a Team of experienced and specialised technicians who work directly at the customer's site to support them in the event of faults or malfunctions, thus ensuring greater safety and reliability.
This service, managed by the Centralised Service Centre in Italy, can be:
Scheduled: we create packages for regular and constant interventions
"On Demand": in case of emergencies, with guaranteed intervention within a few days
Specialized technical training
To ensure that local technicians/service centres can achieve a high capacity to support and maintainAscot products, we regularly organise structured training courses at different levels.
We have created 3 different training paths to learn how to install, use, maintain, service and remotely monitor our solutions.
In addition, our training upgrades any standard generator technicians to the level of handling hybrid power units.
We believe in technical training as an investment in the future and are actively working to train increasingly specialized and experienced Ascot product technicians and maintainers.
Online Support: Ascot's Help Desk
Another service of great value and utility is the Ascot Help Desk portal just a click away.
Every request that arrives at our Help Desk becomes an open ticket that is routed to the main Service Centre and immediately taken care of. A response is guaranteed within 24 hours (48 hours on public holidays) and the customer can check the status of his request at any time.
If the problem requires on-site intervention, the Service Centre will send a technician to the field within a few days.
After resolution, a detailed final report is sent and attached to the ticket to close the case.
Remote management: the future of after-sales service
Our after-sales service also includes efficient real-time monitoring of Ascot machines worldwide.
This is made possible by the IoT Suite Platform (Full Remote Management System), a punctual remote management system that continuously monitors all relevant system parameters and data and manages all hybrids/generators located throughout the territory.
Thanks to our IoT technology it is possible to control, remotely via the Web and with multi-user access, every machine and plant for:
information on start-up, shutdown and recovery functions

monitor power

make an analysis of control and management data over an entire network of sites

view trends in engine RPM, engine, temp., starter battery VDC, power output, fuel level

locate gensets/hybrids worldwide

be informed of fault status or correct operating mode via SMS, voice or e-mail alarms

generate performance reports for individual or groups of machines
In addition, the collection of historical data makes it possible to analyze plant performance over the long term, identifying any inefficiencies and planning preventive maintenance.
Currently, there is no product on the market that can guarantee precise performance with very low deviations (under 5%) like the IOT Ascot system, which allows 'on-time' control of the hybrid product.
Generic IOT systems on the market in fact give information which is very generic, without guaranteeing a solid response to the investor and a clear correspondence to reality.
The added value of Ascot's after-sales service
Our goal is to be the best energy consultant and reliable technology partner for our customers.
Ascot's after-sales service is therefore a key element in achieving this goal and the basis of our value transfer strategy to the customer.
Discover our customized high-performance energy solutions and contact us for more information.