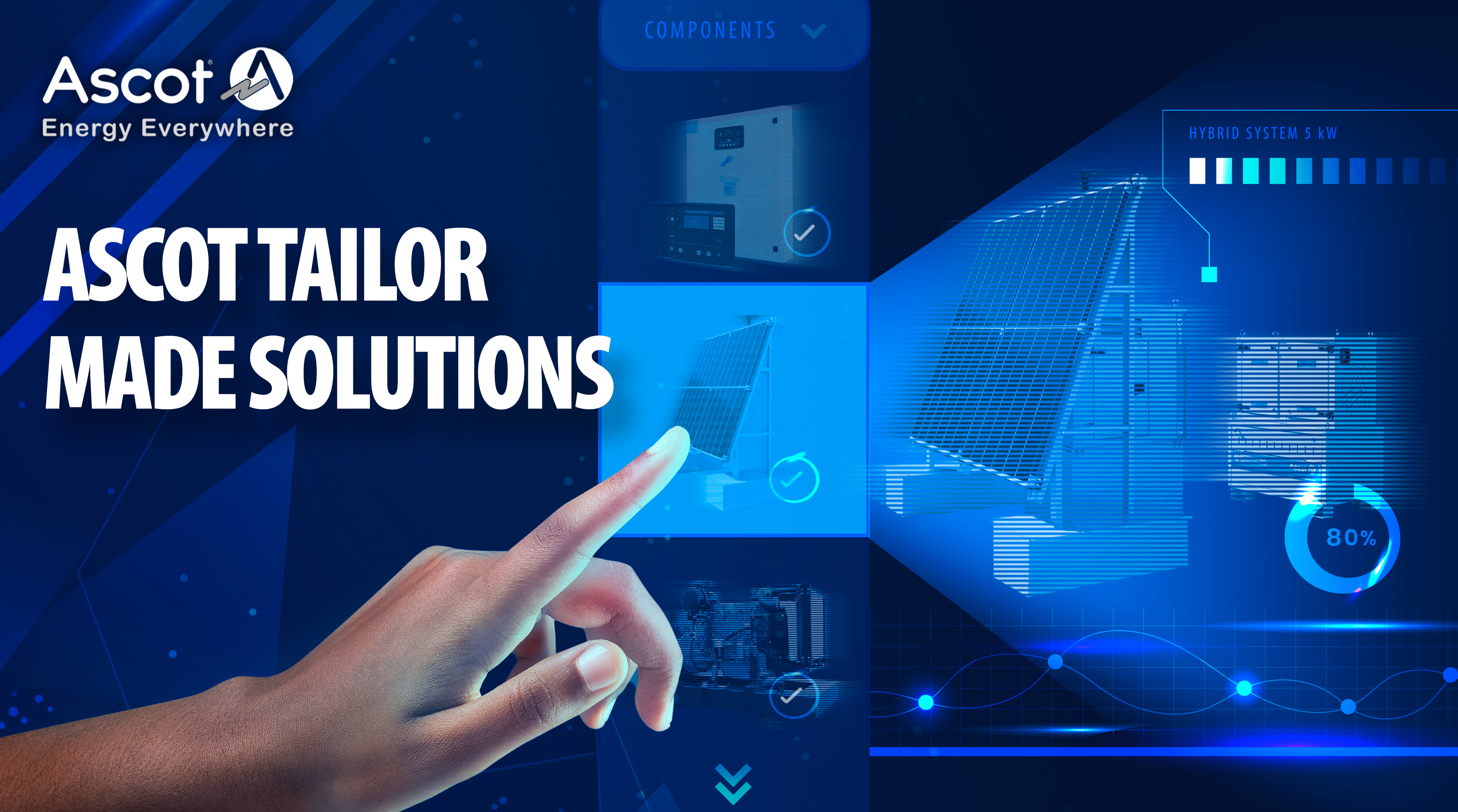 Power Generation: Tailor-made and sustainable solutions for energy generation
Power Generation: Tailor-made and sustainable solutions for energy generation
In the electricity sector, Ascot is recognized throughout the world as a leading company and a solid and reliable technological partner.
Ascot is actively present in over 60 countries like: Europe, Africa, the Middle East, Asia, Latin America and the United States.
Energy solutions are associated with high quality, reliability, long life and hybrid technologies, of which we are pioneers.
In fact, the birth of the first hybrid generator - Hybrid Power Unit - dates back to 2007 and was installed in Sudan for the first time in the Telecommunications sector.
This is the solution that has been tested over the years with great success in remote/rural off-grid areas and in bad-grid areas, where the grid is subject to frequent interruptions.
A push towards a double objective:
Bringing light and energy to parts of the world where electricity is not available

Provide customized sustainable power solutions with low environmental impact.
Thanks to 15 years of experience in the hybrid world, Ascot products are fully tested and proven, with high reliability and long-lasting results.
Ascot: 100% Made in Italy tailor-made energy solutions
Ascot is a company oriented towards total quality.
All energy solutions are certified 100% Made in Italy.
In fact, they are made entirely in Italy with materials, components and equipment of the highest quality, and developed on specific requests and needs from customers.
In particular, we pay great attention to the continuous improvement of the products, but also of each single internal department.
Furthermore, we constantly invest in research and development to ensure excellent performance and maximum reliability, with low operating costs.
This allows us to provide the best systems with the highest standards of:
Safety

Efficiency

Sustainability
In over 30 years of activity Ascot has developed innovative advanced systems, technologies and know-how.
In fact, before entering into the market, all the products are tested with validation and acceptance systems.
The R&D department also designs customized solutions to meet and satisfy every single energy need.
Through the Advanced Tailor-Made (Product Invention) process, we create and customize premium products, new solutions and special systems for:
Telecom

Mobile

Rural areas

Civil-Industrial

Modular Power Plants
A tailor-made attitude that always puts the customer's needs at the center and follows all phases of the product's life.
Furthermore, through our network of Ascot Flying Doctors made up of specialized technicians, we support our customers directly on their sites.
Power Generation and sustainability: an essential combination for Ascot
Ascot Industrial has always been careful to environmental sustainability.
In fact, our primary goal is to develop sustainable energy solutions, promoting renewable energies.
The goal we aim for is to reduce fuel consumption and minimize environmental impact.
A challenge that aligns with the Sustainable Development Goals 2030-2050 appointed by the EU.
We already have products in line with the SDGs goals, especially with the Hybrid Powered (Engine and Batteries) and Eco Powered (Batteries only) ranges.
However, we don't stop here: we continue our research for intelligent energy systems and cutting-edge solutions aimed at accelerating the energy transition.
Contact us for all the necessary information, we transform your energy needs into efficient, tailor-made and sustainable solutions.