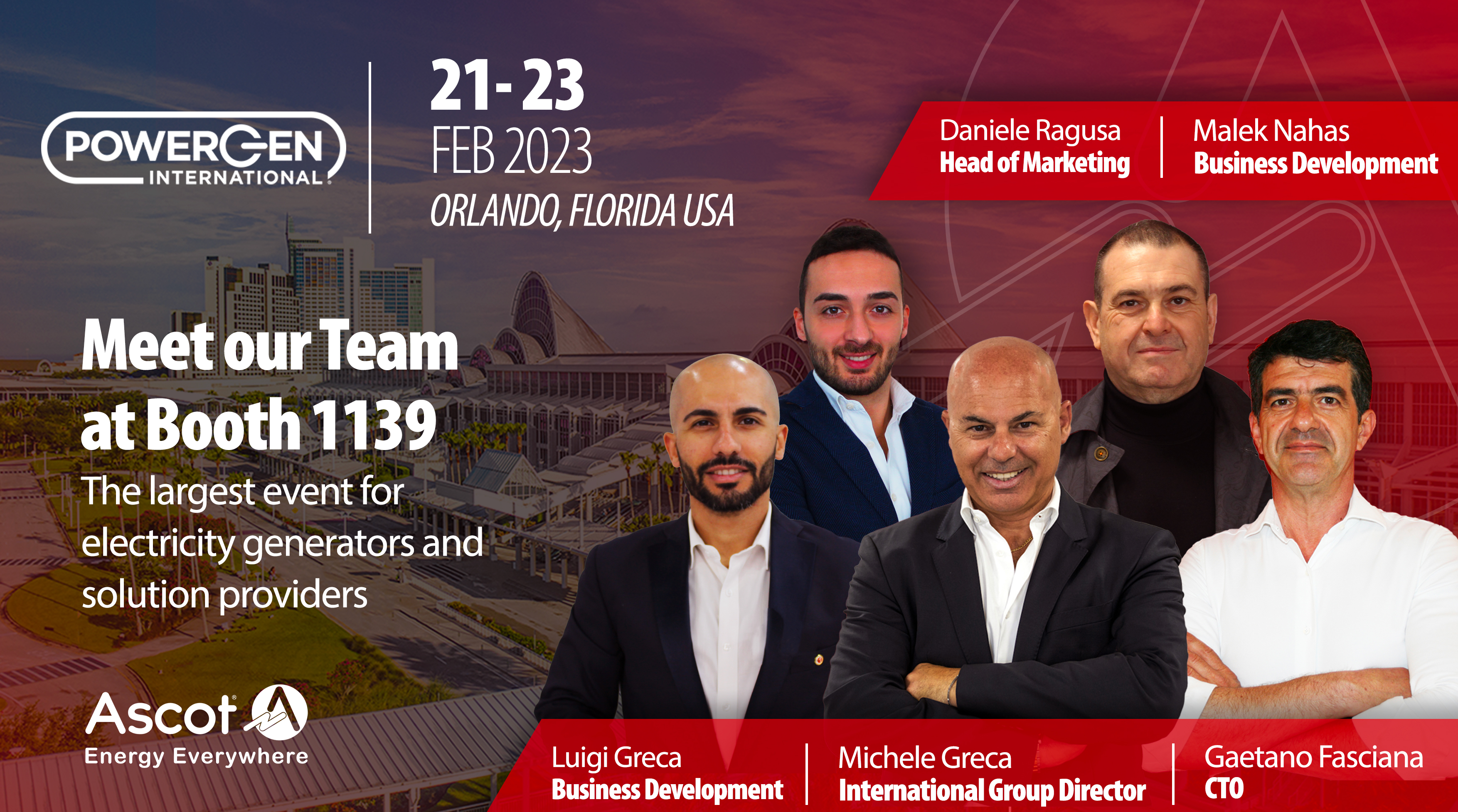 Ascot Participates in the 2023 POWERGEN Fair in Orlando
Ascot Participates in the 2023 POWERGEN Fair in Orlando
Ascot will be present at the 2023 POWERGEN Fair in Orlando, at Booth No. 1139.
The fair will be held from February 21st to 23rd, 2023 at the Orange County Convention Center in Orlando, Florida. It is the world's largest global energy production event.
POWER-GEN International® showcases the latest innovations, latest trends, and cutting-edge solutions in the industry.
It represents a moment of meeting and growth to stimulate change. It will also promote comparison and implement innovation in the energy transformation journey towards Destination 2050.
The event welcomes over 22,000 professionals from 90 different countries, including:
Energy producers
Utility services
EPCs consultants
OEMs
Large-scale energy users
There will be over 50 energy-themed conferences with over 200 speakers and educators who will delve into the topic of energy and renewable energy, both present and future.
Ascot's Motivation for Participating in POWERGEN International®
There are three main motivations that drive us to be present at POWERGEN International®.
The first is our drive towards constant updates and market knowledge and trends. Participating in the most important sector fairs allows us to always be at the forefront of understanding the global supply and actively interact with markets from every part of the world.

The second motivation is that the American market has been extremely important to us for many years. It is a market that requires a particular and innovative technology, different from the technologies of other markets (such as Africa).
Adapting to different technologies for different markets is Ascot's strong point.
Knowing the global supply allows us to keep pace with:
Those who go faster, providing high-technology solutions (such as the USA)
Those who go slower, ensuring Tailor Made systems developed with less advanced technologies (such as Africa)
3. The third motivation for our participation in the Orlando Fair is the opening of the Ascot branch in Houston. We want to continue our expansion in the American market, ensuring an ever-closer presence to customers and partners.
Ascot Products Presented at POWERGEN International®
Ascot brings to the Orlando POWERGEN Fair the best energy solutions specifically designed for Telecom Application, Home Application, Civil & Industrial.
These are 100% Made in Italy certified products, designed and built by Italian engineers with high-quality natural components and materials.
All of our solutions are technologically advanced, reliable, and sustainable. They are also equipped with the "Iot Suite Platform", a real-time web-based management system that allows you to manage all energy sources.
We will also "virtually" showcase flagship products developed for crucial sectors such as Rental, Civil & Industrial, and Emergency. To do this, we combine sustainability, technology, and virtual reality.
At our stand, it will be possible to view these products even though they are not physically present. How? Through the use of Virtual Reality Viewer technology.
This means that, through the 3D viewer, it will be possible:
To examine products in detail
Inspect each internal component
Investigate individual features
Discover technical data
View technical videos
A solution that allows us to avoid transporting these products, reducing our impact on the environment and aligning ourselves more and more with the challenge of decarbonization.
Contact us for more information or come visit us at the POWERGEN 2023 fair in Orlando.