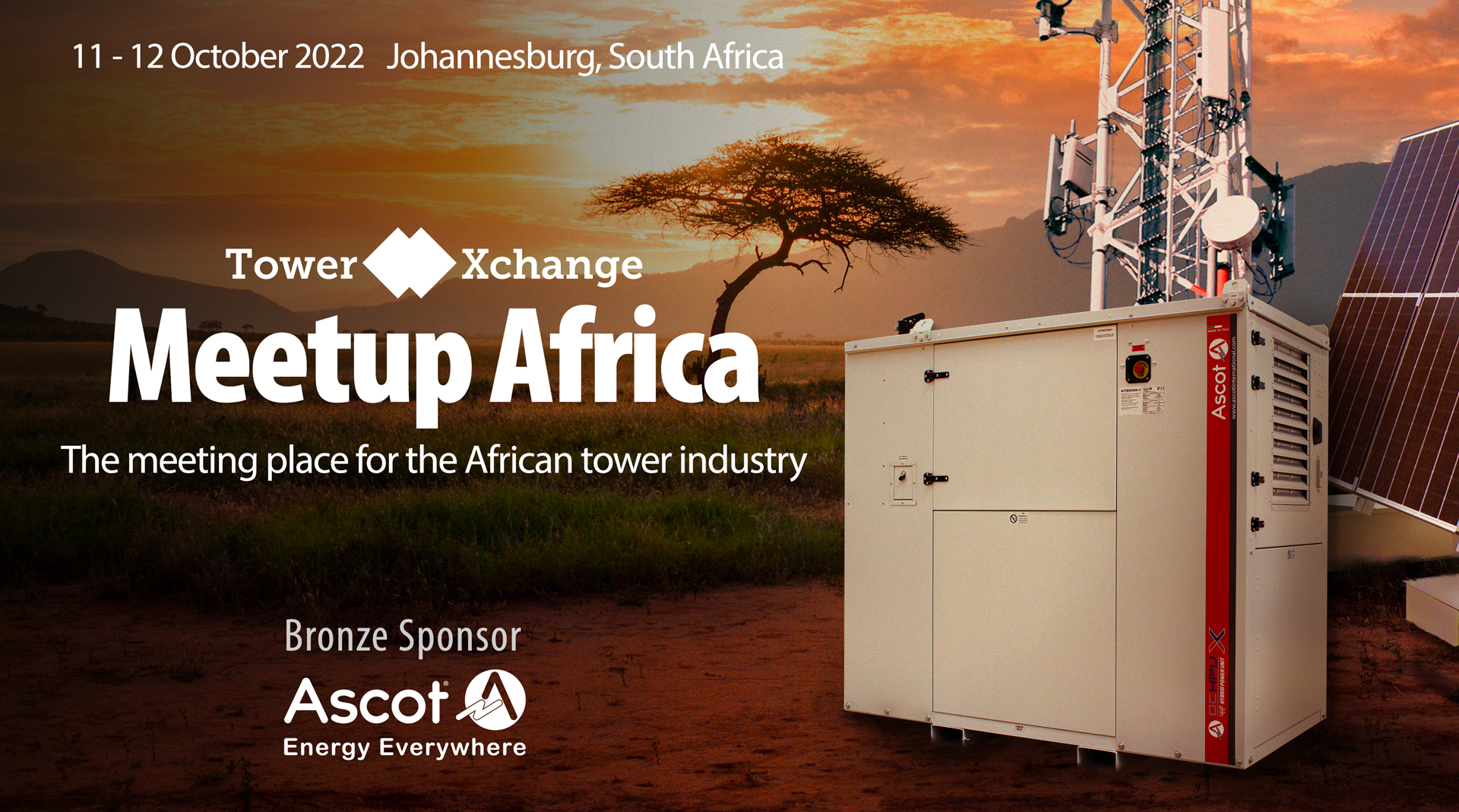 Ascot present at TowerXchange Meetup Africa 2022: Innovation and Sustainability to support the Telecom Industries
Ascot present at TowerXchange Meetup Africa 2022: the international Exhibition dedicated to the Telecommunication Sector
Ascot Industrial is present at the Tower Exchange Meetup Africa 2022, one of the most important trade fairs for the Telecom Tower Market, to be held in Johannesburg (South Africa) on 11 and 12 October 2022.
The telecommunications sector is constantly evolving and the African continent in particular, is the ideal place to overcome the most difficult challenges through the implementation of efficient, reliable and low-emission systems.
Ascot, world pioneer of Hybrid Generators in the Telecom sector, will be the bronze sponsor of the event and will present its innovative and tailor-made solutions.
Ascot Industrial's purpose is to leverage its expertise and propose a series of solutions whose approach is to create new opportunities, guarantee a low environmental impact, to meet the Sustainable Development Goals for 2030-2050.
Sustainability and innovation - all Italian - are particularities that characterize the Off Grid Power Supply Systems for Telecommunications that Ascot will show to visitors on the occasion of TowerXchange Meetup Africa.
Ascot Industrial's booth at TowerXchange Meetup Africa 2022
Ascot's booth, No. 226, represents a container of the pure essence of the brand, characterized by creativity and innovation, which translates into products that are always avant-garde and highly customized for all the needs of each specific customer.
Products will be shown, for the first time, in a highly innovative, technological and "sustainable" way.
In fact, visitors will be able to view the leading products through the new Virtual Reality Viewer technology, inspecting components, features and details.
Thanks to this technology, the transportion of products that can be used only for advertising purposes will be avoided, thus avoiding all the consumption that it would require to transfer it to other parts of the world and subsequently return it to base.
Technology, for Ascot, is therefore declined even beyond the product, using Virtual Reality as one of the many answers to the difficult challenge of decarbonization.
The 3D viewer to view Ascot products at TowerXchange Meetup Africa 2022
The 3D VR viewer will allow visitors to inspect the products, giving an overview of Ascot's various solutions in the telecommunications sector.
With the VR viewer, it will then be possible to view and analyze:
● Leading products;
● The internal components;
● Technical data;
● Focus Technical Video.
The visitor will be catapulted into the Ascot showroom as if they were actually seeing the products.
Contact us to request all the necessary information, we transform your energy needs into efficient solutions!