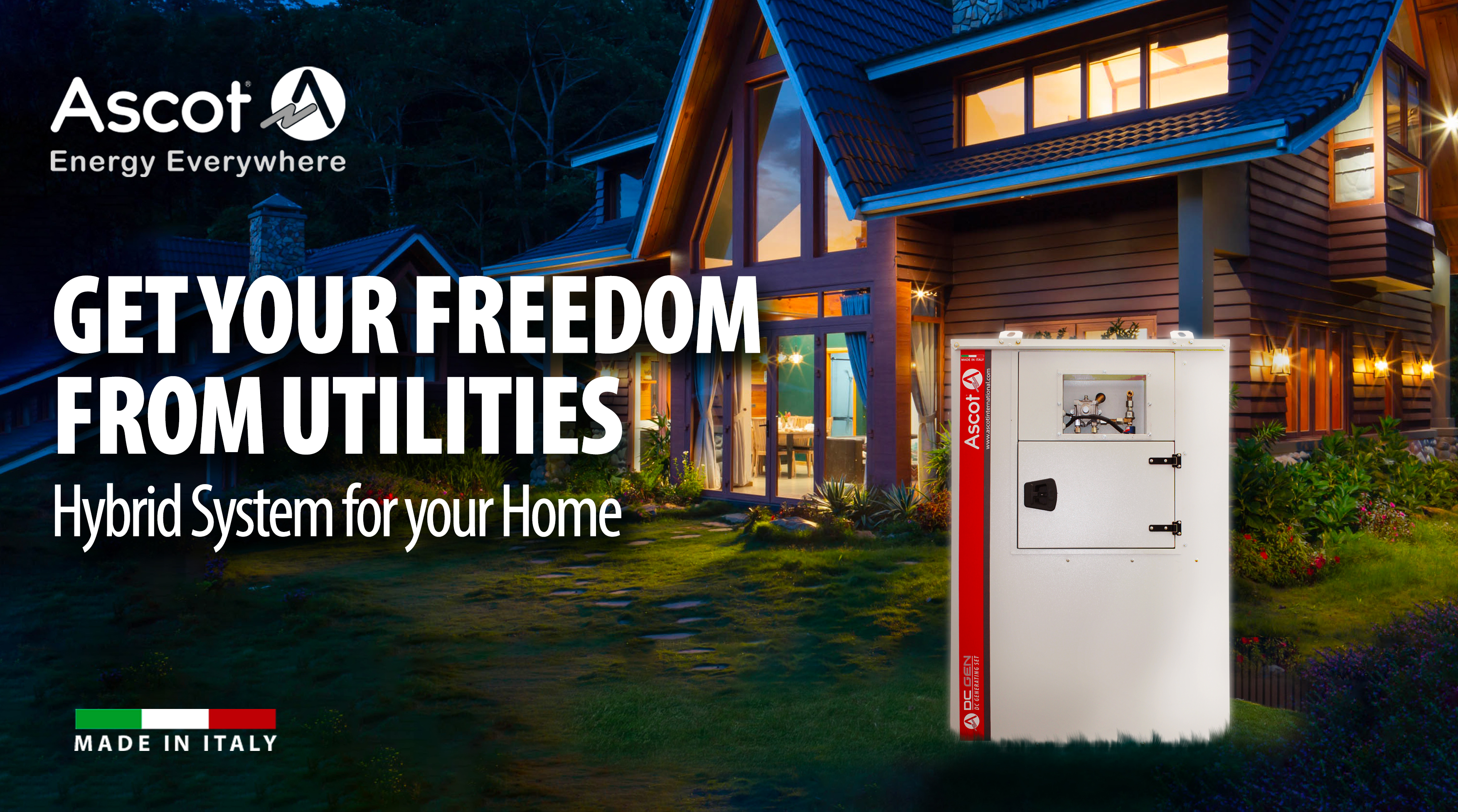 10kW Hybrid System for Home Applications
The 10kW Ascot hybrid system for Home application
Ascot presents one of its flagship products developed for the civil industry: a 10kW hybrid system for home applications.
Ascot's hybrid technologies, powered by Diesel, NG or LPG, are part of the top offerings of our global market range. These are high-performance products, certified 100% Made in Italy, with proven and tested technology for over 15 years.
These are customized products that follow the design, but most importantly the customer's needs and can be customized based on the usage temperature, location, and required performance.
In addition, Ascot's added value is sustainability, with solutions that respect the environment using:
renewable energy systems

hybrid technologies with a green approach

energy solution integrated with green energy
Ascot's system applications are multiple, including the civil sector, with the flagship product HPU X HOME, the 10kW hybrid generator for home applications, which we will discuss below.
The operation of Ascot's all-in-one GPL/NG hybrid generator for Home application
The Ascot Home System is a high efficiency 10kW all-in-one hybrid generator that can be combined with solar panels and batteries.
It is the smallest DC standby generator with a variable speed engine that operates at -48 V DC and deep-cycle batteries.
Thanks to its compact size and high performance, it ensures:
optimization of space,

ease of installation

low-consumption energy generation
It guarantees a certified fuel saving of up to 68% compared to a traditional generator.
It is designed to be ready for connection to renewable energy sources, achieving a fuel consumption reduction of up to 100% and a reduction in CO2 emissions.
The Hybrid Home System is also suitable for residential buildings, as it can store solar energy from the solar panels in batteries and disconnect from the electrical grid, achieving significant energy savings for the user.
The user can benefit from the Hybrid Home System in the following cases:
During the day, it accumulates solar energy from solar panels, providing power to the home, and at the same time, charging the batteries thanks to the Intelligent Hybrid Module (IHM).
At night, it uses the energy accumulated during the day by the batteries to provide power to the home.
During prolonged blackouts (storms, hurricanes, floods, etc.), it uses the energy produced by the fuel (LPG, Natural Gas, Diesel) to provide power to the home and charge the batteries.
Watch the Technical Video:
Ascot's UL Approved Hybrid Power Unit Home
Ascot's Hybrid Power Unit Home is UL approved.
This mark is issued by UL (Underwriters Laboratories), a global leader in safety science, which helps companies to:
demonstrate and strengthen safety,

improve sustainability,

provide quality

manage risks

achieve regulatory compliance
UL is the only independent certification body authorized to issue the UL Mark. Obtaining it means certifying constant compliance with safety standards in Canada and the United States.
Ascot's HPU Home has passed numerous tests and has been submitted for approval to the certifying body regarding:
mechanical hazards

fire risks

electrical shock
It is therefore suitable for safety standards and compliant with regulations, providing further guarantees of Ascot's quality.
Contact us for all the necessary information on the HPU Home, Ascot's all-in-one GPL/NG hybrid generator.