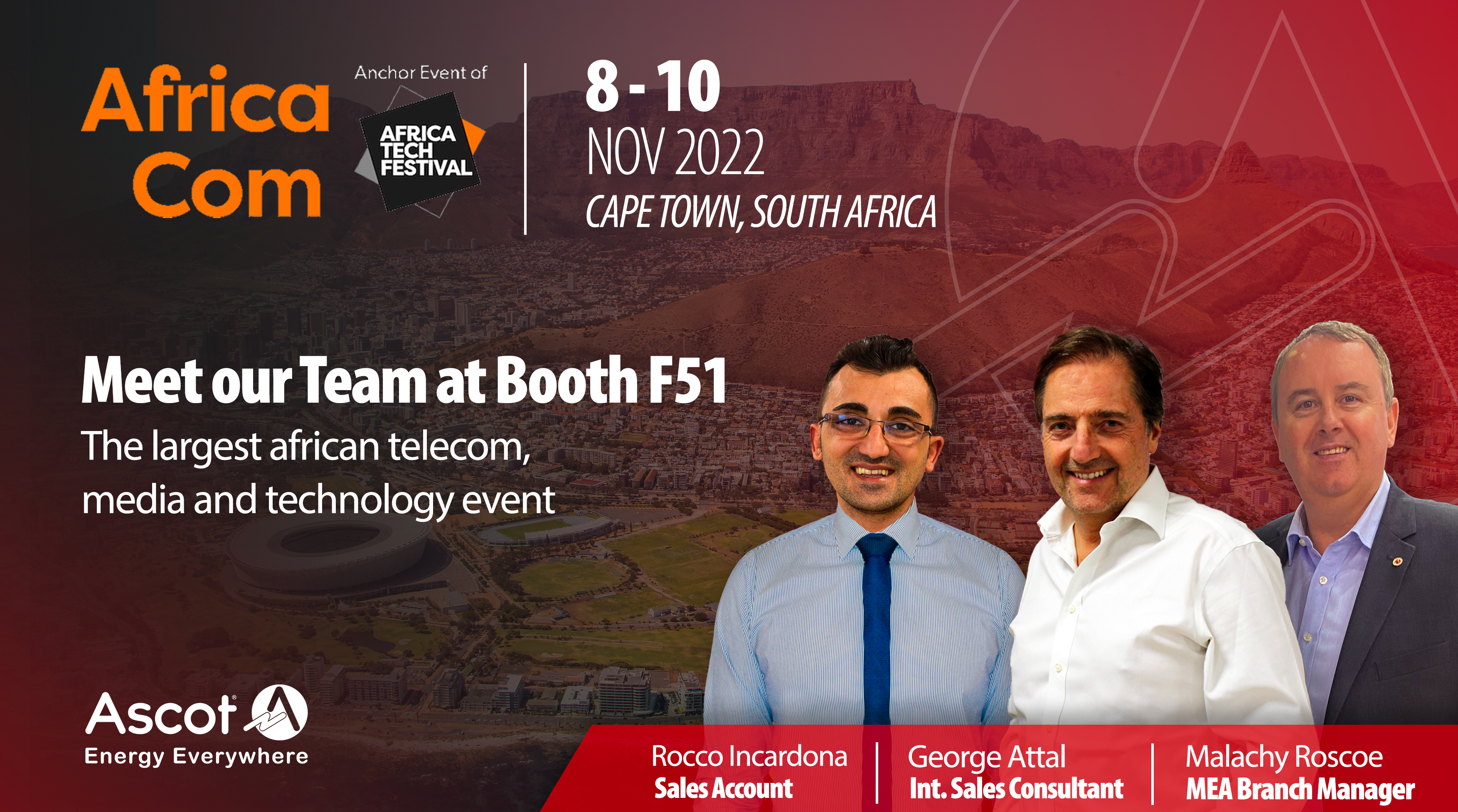 AfricaCom 2022: the Digital Infrastructure Event in Africa - Blog - Ascot
Ascot presents at AfricaCom 2022: the largest digital infrastructure event in Africa
Ascot will take part in AfricaCom 2022, the largest digital infrastructure technology event in Africa - Stand F51.
This year AfricaCom turns 25 years old and, after two years as a digital version, is finally back in attendance from 8th to 11th November at the Cape Town International Convention Centre (CTICC) in Cape Town, South Africa.
Ascot will be at the forefront at AfricaCom 2022, aiming to put its specific expertise and personal technological contribution at the service of the deployment of innovative and renewable energy solutions in the African market.
Ascot's motivation for participating in AfricaCom 2022
Following its participation in TowerXchange Meetup Africa 2022, Ascot will also attend AfricaCom 2022, confirming its interest and commitment to the African telecommunications market.
The company will bring its hybrid solutions to AfricaCom 2022 with a highly innovative, technological and "sustainable" presentation.
Ascot is therefore continuing its journey to improve the power supply of connectivity devices in a country where this issue is still a real challenge, and is doing so through very specific actions:
Increasingly high-performing Hybrid solutions already reaching from 68% Fuel Savings to 100%
Distributing digital energy
Spreading the use of renewable energy
Building a sustainable telecommunications ecosystem
Moreover, aware that digital energy represents the future, even for the off-grid telecommunications sites widely spread in Africa, Ascot has recently activated a new project for the development of a PaaSplatform (platform as a service) through collaboration with a major player in the digital sector and transforming all generators into Technology Hubs by integrating IoT systems.
Contact us for more information or visit us at AfricaCom 2022.