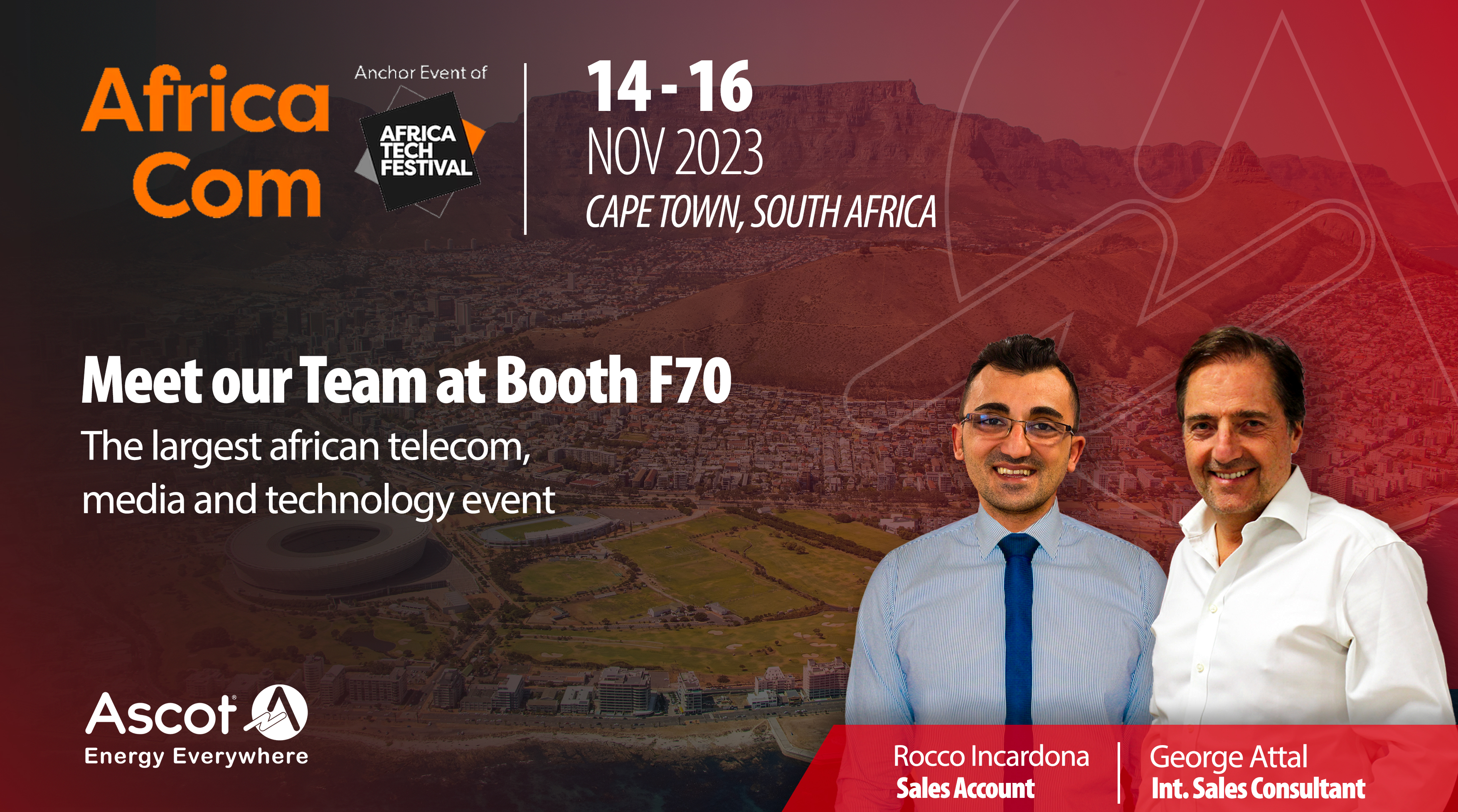 AfricaCom 2023: November 14 to 16
AfricaCom 2023: 14-16 November Ascot returns to Africa's big digital infrastructure event
Ascot will be exhibiting at AfricaCom 2023, the African continent's most important annual telecommunications and technology event in Africa.
You can find us at Stand F70 at the Cape Town International Convention Center in Cape Town, South Africa, from 14 to 16 November 2023.
Already present in 2022, Ascot will also be at the forefront of this 26th edition: we will bring to the Event our experience and technological expertise to promote innovative and renewable energy solutions in the African market.
The themes of AfricaCom 2023, the pan-African telecommunications exhibition
AfricaCom 2023, with over 12,000 participants and 1,600 VIPs from around the world, is the first pan-African communications exhibition.
It represents a key event for telecommunications and technology companies and new international investors interested in discovering new markets and investment opportunities on the African continent.
The event offers the opportunity to meet industry experts, discover new solutions and products, establish business partnerships and understand the prospects for the future of telecommunications and technology in Africa.
These are three key days where industry leaders will be able to discuss the latest trends and innovationsin the field of:
telecommunications

cloud computing

artificial intelligence

IoT

expansion of high-speed mobile networks

digital infrastructure development

cyber security

digital accessibility
In addition, AfricaCom 2023 will host conferences, workshops and networking sessions, which will enable participants to deepen their knowledge and acquire new skills.
AFRICACOM has been a flagship event for the African ICT community since 2007.
The reasons why Ascot is participating in AfricaCom 2023
Ascot's participation in AfricaCom 2023 is strongly sought-after for several reasons.
First of all, we want to confirm our company's commitment to internationalization also in the African telecommunications market.
A commitment that aims to bring our innovative, tailor-made and low-emission solutions to Africa in order to achieve the Sustainable Development Goals for 2030-2050.
Furthermore, we want to provide our experience and expertise to overcome the continent's most difficult challenges by implementing efficient and reliable systems that promote the use of renewable energy to build a sustainable telecommunications ecosystem.
Finally, we want to share our developments in digital energy to make it increasingly available to the off-grid telecommunications sites spread across Africa.
The themes of technology, innovation and digital transformation in African telecommunications are what motivate us to take part in AfricaCom 2023.
Visit us: find out how to talk to Ascot at AfricaCom 2023
We at Ascot will be present at AfricaCom 2023 from 14 to 16 November 2023.
If you would like to visit our Stand or talk to us about the latest news and innovations in energy, technology and telecommunications, you can do so by going to Stand F70 at the Cape Town International Convention Centre in Cape Town.
Contact us for more information or visit us at AfricaCom 2023!