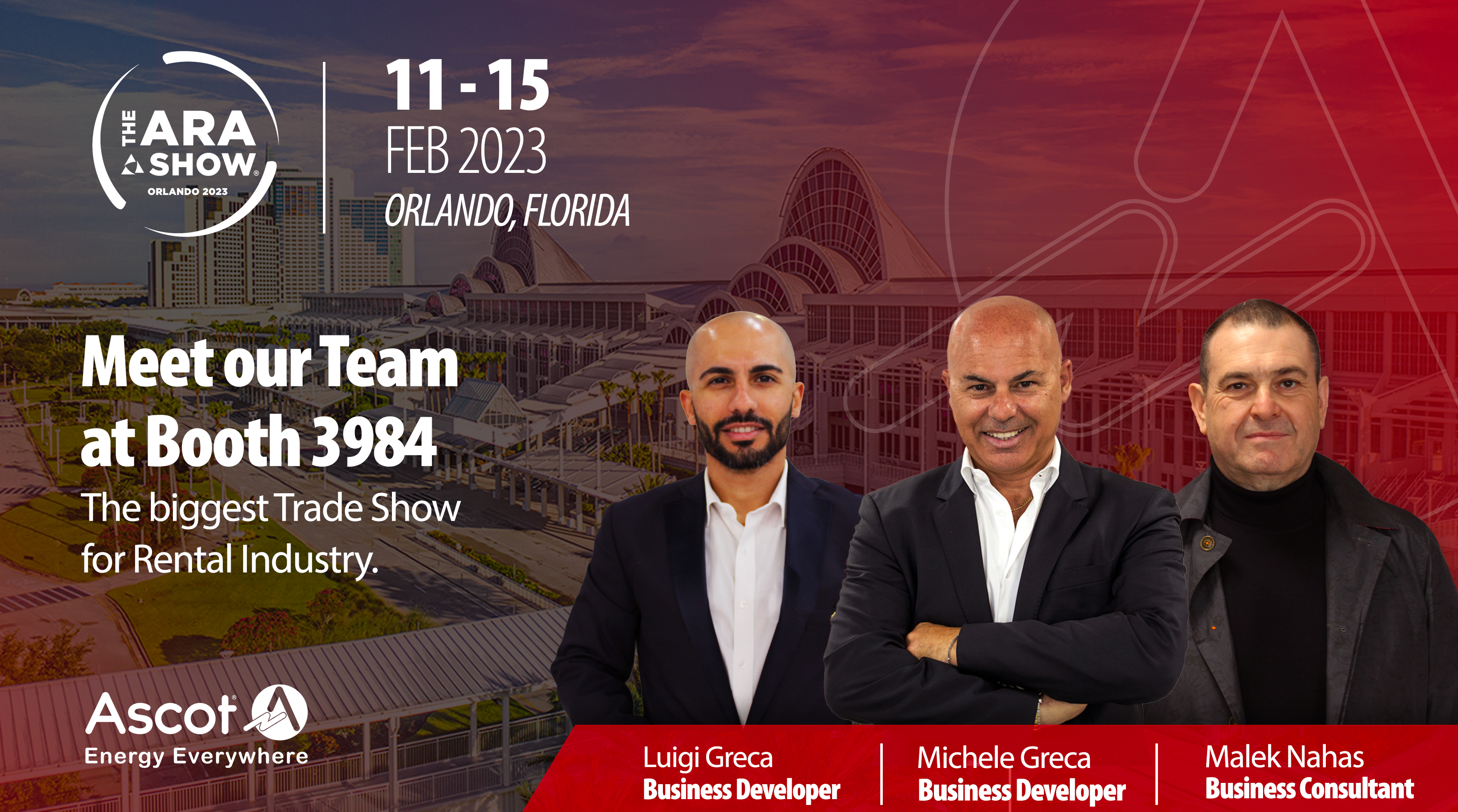 Ascot Take part in ARA Show 2023
Ascot attends Orlando's 2023 ARA Show™ Annual Fair
Ascot will be exhibiting at Ara Show™, the American Rental Association's annual trade show for the events and equipment rental industry.
You can find us at Booth 3984 of the Orange County Convention Center in Orlando, February 11-15, 2023.
66 years after its creation, the ARA Show™ is the largest trade fair in the world in this sector.
This is a closed and exclusive event: only those directly involved in the event and equipment rental sector can participate.
For this reason it represents a fundamental appointment to get in touch and network with the best professionals in the world of Rental.
During the 4 days of the Fair, the following will be presented and exhibited:
future of equipment rental

best practices

innovative technologies and ideas

latest market trends

networking events
There are also many afternoon sessions offered, divided into two paths: one relating to fleet management and one relating to operations.
Ascot at ARA Show™ 2023: the program of the Fair
The ARA Show™ will officially kick off on Saturday, February 11, 2023.
Ascot will be present with its own Stand to show the most efficient solutions in the Rental sector.
Hybrid generators and Mobile solutions for Utilities companies will be the products that Ascot will show to the American market to ensure reliability and fuel savings.
During the event, the focus will be on new equipment and technologies, with ample networking opportunities.
Compared to past editions, the ARA Show™ 2023 will have some new features, the most important of which will be:
The future of equipment rental. This is a brand-new event on equipment rental companies. It will feature contractor panels, hire, speakers, technicians, networking opportunities, etc.
Finally, great attention will be paid to sustainability, of which Ascot is very sensitive in all its activities.
The goal of the ARA Show™ is therefore:
present what's new in the event and equipment rental industry

create relationships between professionals in this sector

provide participants with best practices to implement in their own business
Contact us for more information or come and visit us at the the ARA Show™.