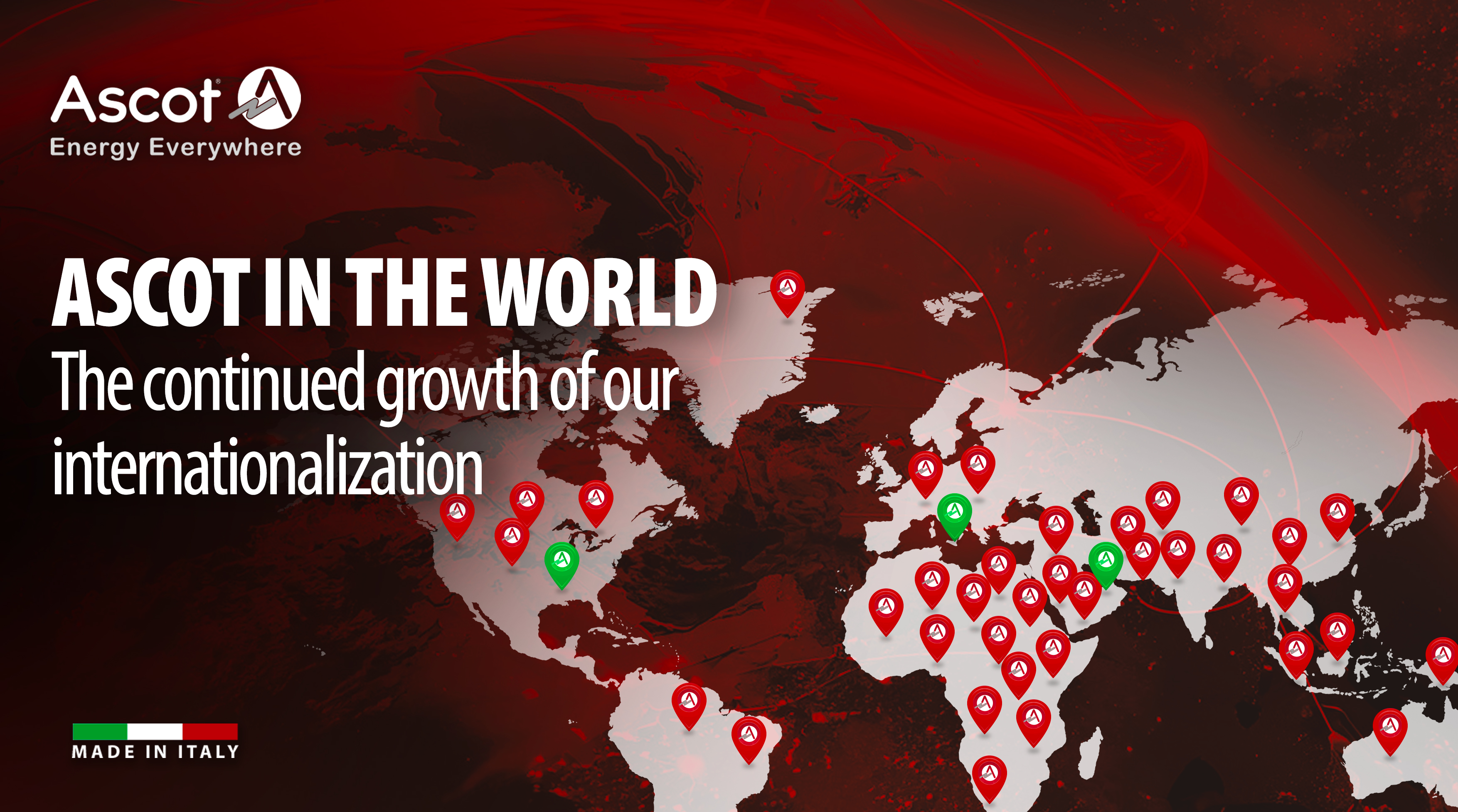 Ascot in the world: the continued growth of our internationalization
Ascot in the world: the continued growth of our internationalization
Ascot "Energy Everywhere". Our pay-off is what best expresses our company's drive for internationalization.
Our Energy Solutions (diesel, LPG, NG), hybrid technologies and special solutions are present almost all over the world: Middle East, Africa, Asia, Latin America, USA, Canada and Europe.
They are installed in the most remote places where the electricity grid is not present, in deserts, on oil platforms, in power stations, on telecommunication towers, etc.
A global presence that best describes our mission: to bring energy everywhere to help the world develop technologically and give everyone an equal opportunity to grow.
An internationalization that has led Ascot to be crowned by the economic newspaper Il Sole 24 Ore as the most export-oriented of over 200 Italian companies, in the 'Export Champions 2022' ranking.
Ascot: international vocation and strategic vision
Ascot was founded in 1986 by Luigi Greca.
With its registered office in Rome and production site in Gela, it has been manufacturing diesel, LPG and natural gas generator sets and hybrid power solutions for various industries worldwide for over 35 years:
telecommunications

civil and industrial applications

mobile generators

power plants

rural areas

special solutions
The international vocation has led Ascot, over the years, to create new divisions and branches to:
develop its business globally

create new relationships and partnerships

reach new markets
Ascot's expansion over the years
Over the years, Ascot has been able to work with international partners from all over the world, and to strengthen its presence in the Iraqi and African markets.
Ascot Technologies was subsequently founded with headquarters in Milan.
This department deals with R&D projects and designs premium products, special solutions and innovative systems. The aim is to guarantee efficient and sustainable electricity to grid-connected, renewable and island users.
In addition, Ascot Technologies offers the opportunity to create new products: through the Advanced Tailor-Made and/or Product Invention process, we create new power solutions exclusively according to customer requirements. This activity is aimed at increasing the overall energy efficiency of systems, ensuring operation, safety and reducing energy expenditure.
At the end of 2022, Ascot also opened the Ascot Dubai Branch, to consolidate and develop our presence in Africa and the Middle East, a strategic area essential to our business.
This new branch in Dubai allows us to get closer to our customers and partners in the Middle East region.
In addition, it gives us the opportunity to develop new partnerships in a market where in recent years we have installed thousands of generators in different application areas.
That's not all: we have recently opened the Ascot Representative Office in Houston, which is responsible for developing our business in America and ensures an even closer presence for customers and partners.
In parallel, we will also be present at the most important global events in the energy world in 2023, to understand the global offering and continue to actively interact with the market in every part of the world.
For more information, contact Team Ascot!