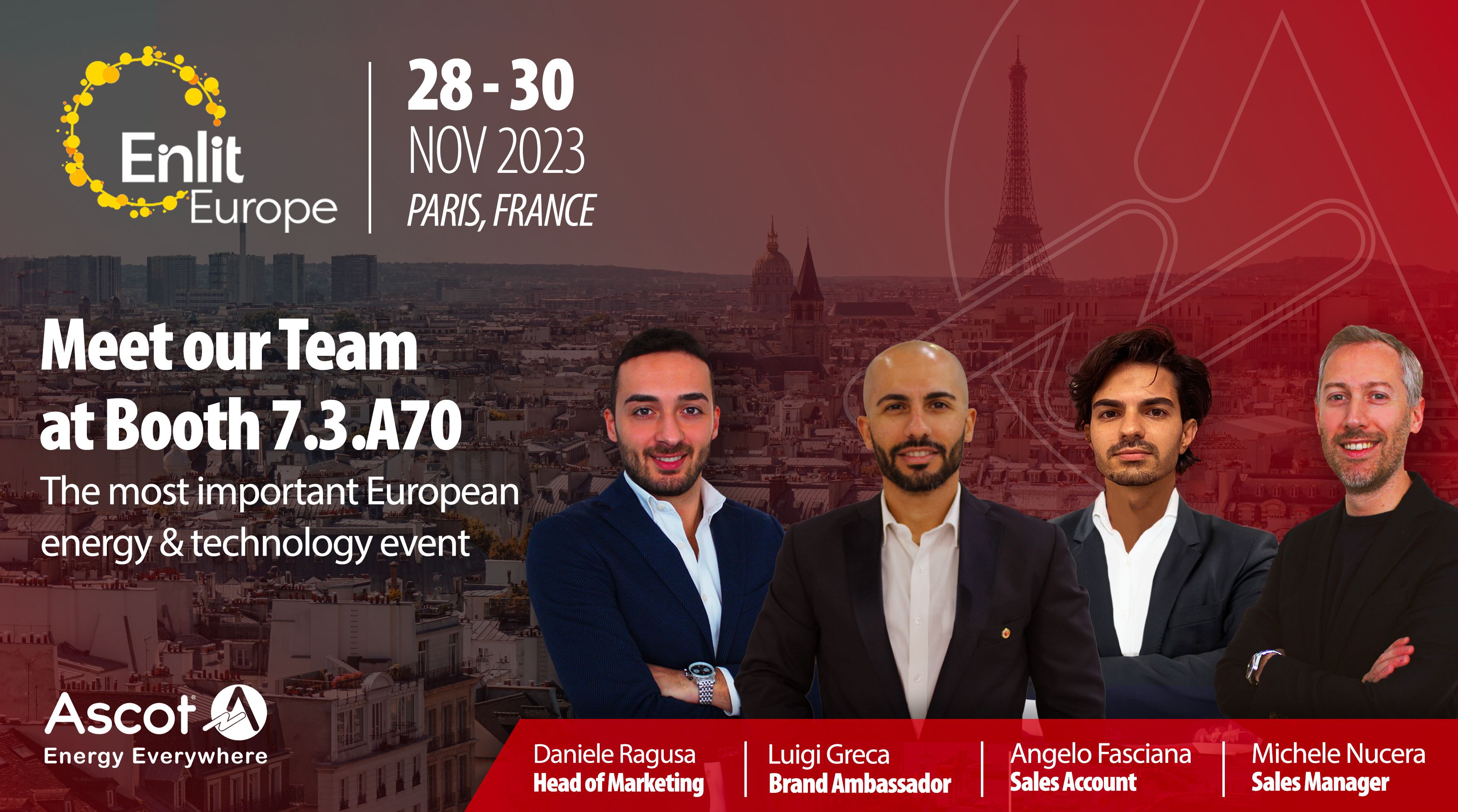 Enlit Europe 2023: 28 - 30 November
Enlit Europe 2023: the big event in Paris for the Utility and Energy sector with Ascot
Ascot will take part in Enlit Europe 2023, one of the largest events in the energy, energy technology and renewable energy sector, with a focus on the European market.
You can find us at Stand 7.3.A70 at the Paris Porte de Versailles (VIPARIS) in Paris from 28 to 30 November 2023.
We will take part in this major Annual Event together with 15,000 other energy professionals including manufacturers, IPPs, utilities, grid operators, energy companies and other commercial and industrial energy players.
There will be over 700 exhibitors and more than 500 expert speakers, as well as start-ups, scale-ups and entrepreneurs with innovative solutions to accelerate the energy transition and limit climate change.
This is the last meeting of the European energy sector before COP28, the 28th United Nations Climate Change Conference to be held in Dubai from 30 November to 12 December 2023.
The novelties and themes of the 2023 edition of Enlit Europe
Enlit Europe 2023 will address every aspect of the energy agenda, with a focus on decarbonisation and digitization for the energy transition.
The programme includes conferences, workshops, summits, roundtables, exhibitions and networking sessions.
The aim is to foster the exchange of knowledge and experience among participants, offering a unique opportunity to learn and compare best practices in the energy sector.
Participants will have the opportunity to learn about the latest innovations in the field of energy, discuss current and future challenges, energy security and interconnected sectors.
In addition, there will be hub sessions on every key aspect of the energy sector:
decentralization

democratization

decarbonization

digitization
Present, but also future: Enlit Europe 2023 will involve next-generation talent in the Event, with students and young professionals participating as 'Leaders of the Future of Energy' and having full access to all activities.
Space is also given to EU energy projects, sharing best practices, results and technologies on:
Digitization

Warehousing

Renewable energies

Energy communities

Smart Spaces (incl. Smart Cities/Smart Buildings)
Finally, companies will present their products and services and will be able to expand their visibility and increase their network of contacts.
Enlit Europe 2023 is therefore an unmissable opportunity for all those operating in the energy sector.
Ascot again this year is a major player at Enlit Europe 2023
After taking part in the 2022 edition, Ascot will also be at Enlit Europe 2023.
Always committed to environmentally friendly energy production and among the first to take the path of reducing emissions with our solutions, we fully share the aims of the fair.
Our participation aims to promote the transition to a sustainable energy system by encouraging the use of renewable energy sources and innovative solutions for energy production and management.
We will bring our experience and expertise on:
Renewable energy systems

Hybrid technologies with a green approach

Integrated energy solutions with green energy
In addition, Ascot's presence at Enlit Europe 2023 is a way of supporting our commitment to digital and smarter, more flexible energy, which are key themes of this edition.
We are an enabler of the green transition required by the European Union and we are always at the forefront of every Event that goes in this direction.
Visit us: find out how to talk to Ascot at Enlit Europe 2023
Ascot will be exhibiting at Enlit Europe 2023 from 28 to 30 November 2023.
If you would like to visit our stand or talk to us about innovative solutions to evolving energy challenges, you can do so by visiting Stand 7.3.A70 at the Paris Porte de Versailles (VIPARIS) in Paris.
For more information, please do not hesitate to contact us!