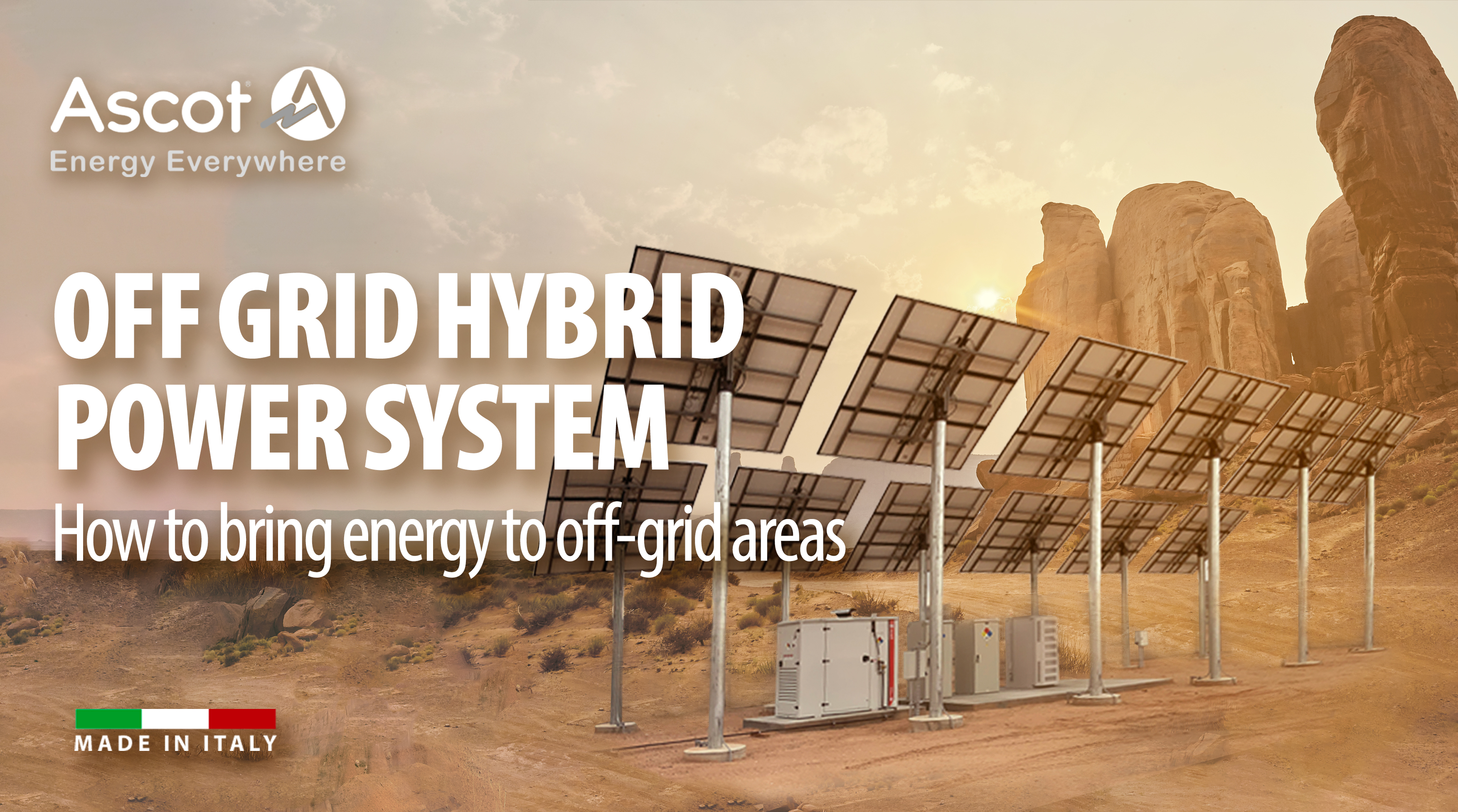 How to bring energy to off-grid areas
How to bring energy to off-grid areas
One of Ascot's main goals is to bring energy to parts of the world where it is not yet available.
These are particular rural and remote areas called off-grid areas where currently:
there is no grid

the availability of electricity is unstable and fluctuating

electricity is available for limited periods
Not having stable and secure access to energy means living in a condition of "under-electrification" that cannot be accepted in today's world.
It is therefore essential to develop rural energy development plans to eliminate this "energy poverty" and support equitable growth.
Universal access to reliable, sustainable, and modern energy for all by 2030 is indeed one of the goals pursued by the ONU.
Universal energy transition is the fundamental basis for achieving global sustainable development goals, including:
elimination of expensive, harmful, and polluting fossil fuels

equitable socio-economic development

global connection to the most modern services and technologies

improvement of public health

expansion of education
Energy independence is therefore an essential prerequisite that Ascot pays great attention to in the present and for the future.
Ascot's solutions for bringing energy to remote sites (off-grid areas)
Through cutting-edge technologies, Ascot wants to offer access to energy by bringing electricity even to the most isolated places in the world.
The mission is to:
provide special power solutions where technology cannot last without energy reserve;
promote the use of renewable energy sources;
reach remote areas thanks to unconventional transport generators (SKD Semi Knocked Down);
develop increasingly efficient hybrid solutions that guarantee fuel savings of up to 100%;
distribute digital energy;

build a sustainable telecommunications ecosystem;
Our energy solutions are designed to work in difficult climatic conditions, typical of off-grid areas. They ensure continuity of electricity and enormous fuel and product maintenance savings.
These are complete, motorized, and hybrid solutions designed for extreme work environments.
The characteristics of Ascot's energy solutions for rural and off-grid areas:
fuel savings of up to 100%

semi-knocked down (SKD) design

Plug & Play for solar/wind/grid inputs

equipment for difficult climatic conditions

eco-friendly with CO2 and noise reduction

12 months of fuel autonomy (3000-liter tank)

Anti-theft systems

remote control
Ascot's work towards digital energy in off-grid areas
Ascot is not only committed to bringing electricity to areas of the world where there is no grid.
We are aware that only through the synergy between telecommunications, industrial automation, and energy, will it be possible to truly achieve a universal energy transition.
For this reason, our commitment also goes towards the dissemination of digital energy.
We have implemented the PaaS (Platform as a Service) platform in over 34,000 installations of our Company worldwide.
This has turned our generators into real technological hubs.
The next step will be to export this digital energy to over 60 countries, including several off-grid areas.
An action that will allow us to transform even the most remote site into an intelligent smart environment capable of providing innovative and intelligent services based on IoT.
Not only that: it will also ensure energy continuity in those places that lack a connection to the power grid.
A step towards a more equitable, smart, and 100% sustainable energy future.
For more information and specifications on Ascot's energy solutions for off-grid areas, contact our team HERE.