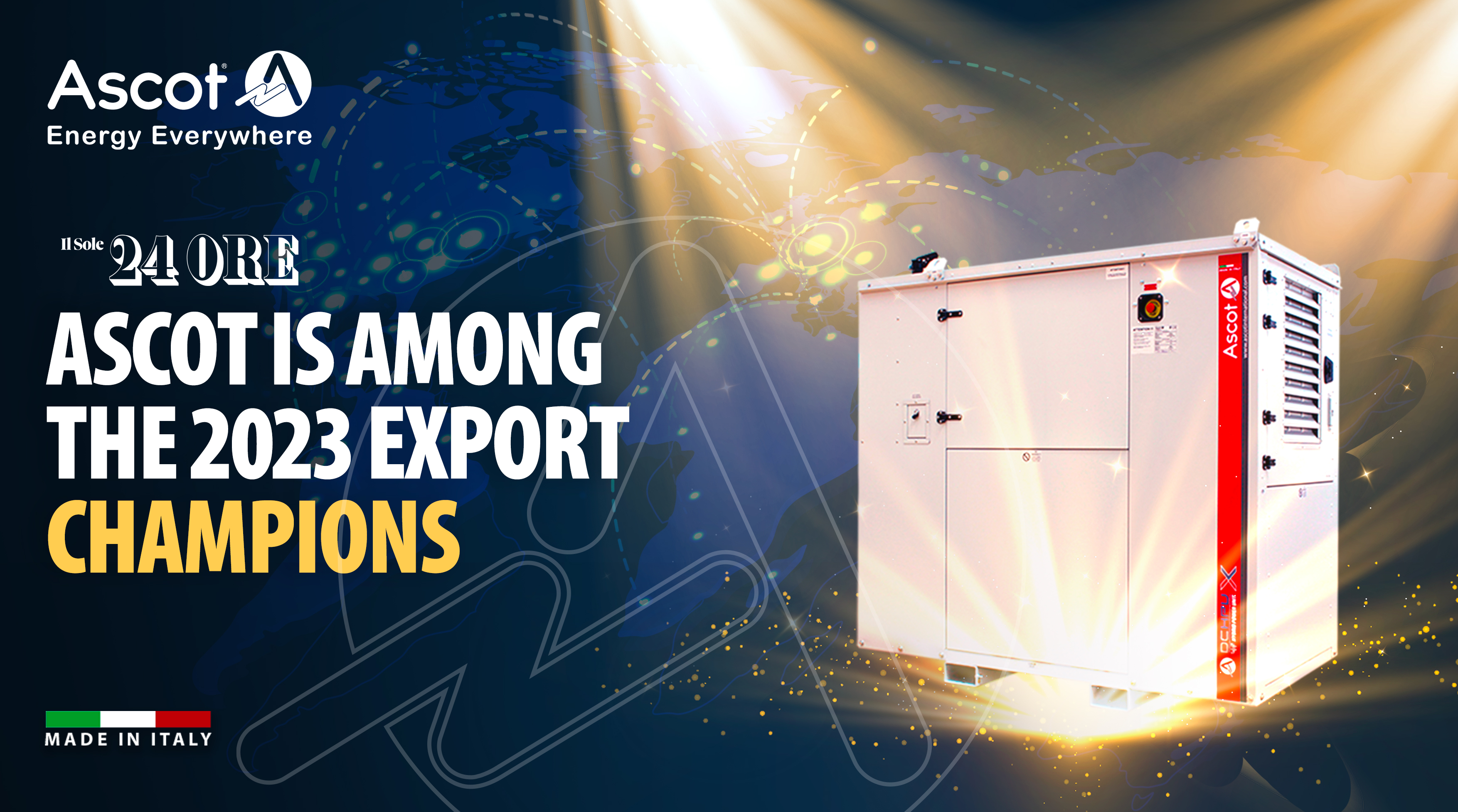 Ascot is amongst the 2023 export champions
The new milestone: Ascot is amongst the 2023 export champions
Ascot is proud to announce that, also this year, we are present in the ranking of the 2023 Export Champions.
This is a list drawn up by "Il Sole 24 Ore" and "Statista" which includes 250 Made in Italy SMEs that stand out for international commercial activity.
An award recognized to companies that have distinguished themselves for their export turnover shares.
After being crowned as the most export-oriented company in 2022, we are very happy to confirm the success of our internationalization also in 2023.
Il Sole 24 Ore and Statista's list of the major exporters 2023
Campioni dell'Export is the competition dedicated to Italian companies for Made in Italy. An initiative promoted by Il Sole 24 Ore and Statista on the Italian economic reality of exports in various industrial sectors.
The selection takes place on the basis of very specific criteria regarding turnover and year of foundation. Furthermore, the participating companies must have their registered office and production center in Italy, produce and export physical products.
Not only that: they must also have the requisites of integrity and not have legal disputes or reputational damage.
This data is then verified and processed by a research team coordinated by Statista, an international research and analysis company.
The companies that enter the ranking are therefore characterized by:
drive for innovation

pursuit of sustainability

resilience
We are very proud to be at the top of the 2023 ranking of excellent Italian companies that have distinguished themselves in the export field.
Ascot: leader of made in Italy exports in the world
Born with an international vocation, Ascot is now present in over 60 countries around the world.
Our generating sets (diesel, LPG, NG), our hybrid technologies and our special solutions are active in the Middle East, Africa, Asia, Latin America, the United States, Canada and Europe.
Our energy solutions are also installed in the most remote places on the planet.
A global experience that allows our Company to guarantee technologically advanced and 100% Made in Italy solutions for every reality and for every type of application.
Ascot is committed to maintaining the highest quality standards on a daily basis, manufacturing all products in Italy. We use 100% Italian and European superior quality components, models and equipment. Furthermore, we constantly invest in research and development to find ever more efficient solutions which we then export everywhere.
Our mission has 3 clear and well-defined directions:
the first, to guarantee cutting-edge and customizable power generation solutions, capable of making the sector grow in every part of the globe

the second, to help humanity generate energy while respecting the environment: we aim to achieve harmony between the elements, supporting the energy transition and promoting Carbon Neutrality

the third, to bring light and energy to parts of the world where electricity is not available and to provide customized power solutions where technology cannot last without backup energy
A commitment that, also in 2023, has been recognized and rewarded with the inclusion of Ascot in the 2023 Export Champions classification.
Contact us for more information!