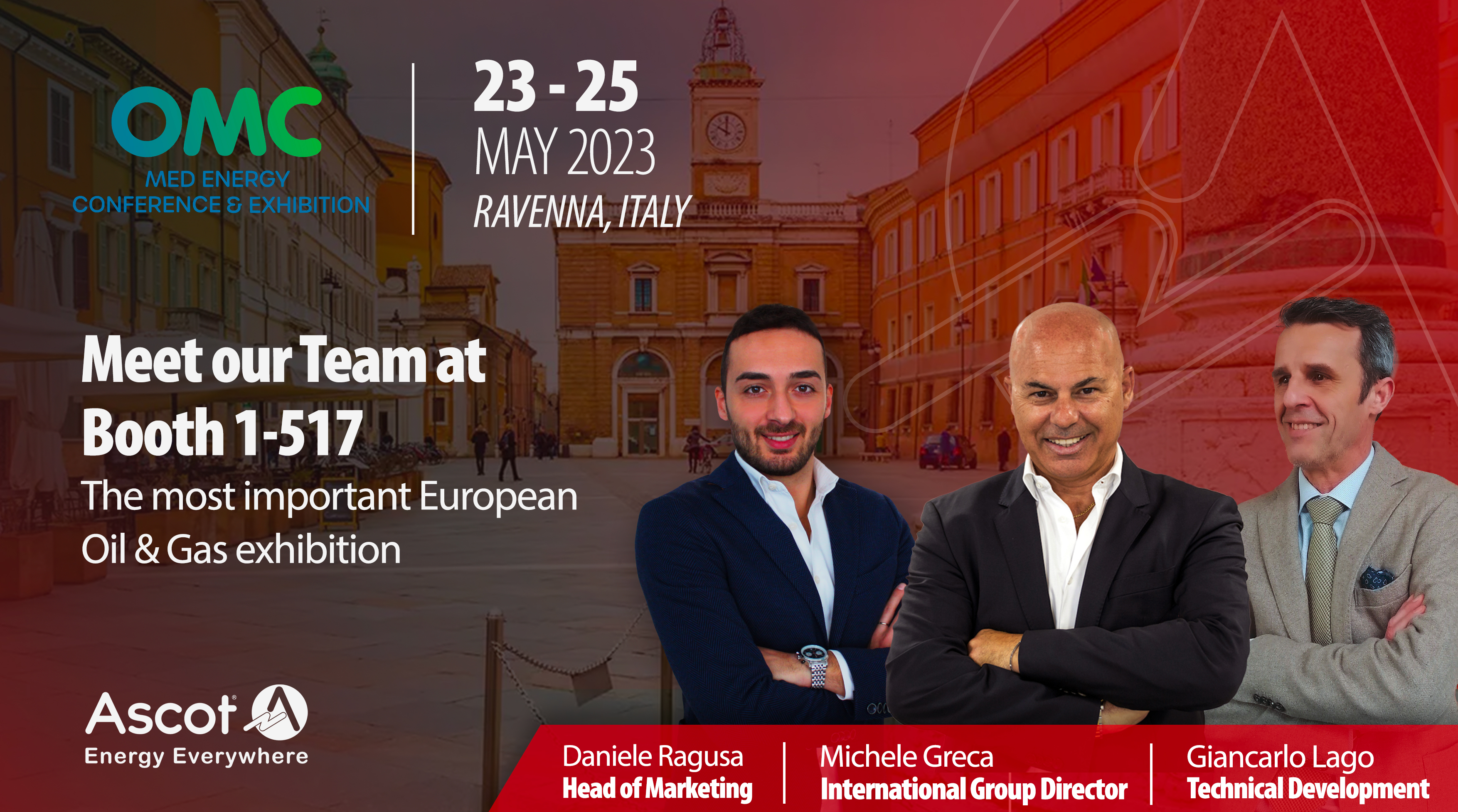 Ascot will be present at the OMC Med Energy Conference and Exhibition 2023 in Ravenna
Ascot will be present at the OMC Med Energy Conference and Exhibition 2023 in Ravenna
Ascot will be attending the OMC 2023, Med Energy Conference and Exhibition, the most important Italian event dedicated to the energy industry in all its aspects.
You can find us at Booth No. 1-517 at the Pala de Andrè in Ravenna from May 23rd to 25th, 2023.
Exactly 30 years after its first edition, OMC has become a reference point in the Mediterranean region for all professionals and associations in the energy sector. It represents a significant event among the major oil & gas fairs and attracts leading international energy companies from Europe, North Africa, and the Middle East.
The 2023 edition expects to welcome over 12,000 participants and 350 exhibiting companies from 25 countries, including:
30 key players in the energy industry

Ministers

CEOs

International Managing Directors

Public bodies
The three-day event program is rich in topics and content, with 200 technical sessions, workshops, exhibitions, and debates, in addition to a wide range of institutional and strategic panels and the OMC Innovation Room. This is an area dedicated to the dissemination and sharing of innovative know-how.
It's a space where students, research centers, startups, and experts can meet and collaborate to develop ideas, create projects, and devise solutions for the new global energy challenges.
Ascot at OMC 2023: themes and novelties of the new edition
The OMC Med Energy Conference and Exhibition 2023 promotes collaboration and the exchange of knowledge among Mediterranean countries as a driving force to achieve a sustainable energy future.
The goal of the event is also to showcase and launch new frontiers in the energy sector towards an effective energy transition, constantly incorporating new sectors. The future of the energy industry is one of the main themes of this 30th edition, which will focus on energy production, processing, storage, and distribution. Topics such as process equipment, automation, and new technologies will also be addressed.
The event will provide a strategic outlook on key trends in the energy sector, with a focus on:
Decarbonization

Post-COVID prospects for the energy sector

Integration of new technologies and new business models

Renewable energies and new forms of energy

The role of gas in the energy transition
Another fundamental theme of OMC will be climate change and COP27: the United Nations Climate Change Conference held in Sharm el-Sheikh on November 7th and 8th, 2022. This important event saw world leaders discussing the climate impact that the Earth is experiencing and, for the first time in history, hosted a Mediterranean Pavilion.
Ascot's products showcased at OMC 2023 and how to participate in the fair
Ascot will bring a hybrid solution consisting of a DC Generator with a battery bank to the OMC Med Energy Conference and Exhibition.
It is a high-efficiency hybrid system for energy generation and storage specifically designed for the oil & gas sector. The Ascot DC generator with a battery bank allows you to:
Bridge the gap between energy produced and consumed

Obtain an additional energy source

Reduce load peaks

Avoid energy instability and network blackouts

Save fuel

Improve efficiency

Reduce emissions

Reduce operating costs
As a pioneer in hybrid solutions, Ascot promotes hybridization in the oil & gas industry through renewable energy systems, which are integral to the energy transition.
Our "Hybrid Solar Power Systems" are battery storage systems with solar panels. They allow for the complete shutdown of the standard generator in continuous use, achieving a return on investment in just a few years.

Ascot's innovative hybrid technology enables achieving up to 100% photovoltaic penetration, surpassing the actual problem of energy instability experienced with current technologies. This will allow companies in the oil & gas industry to reduce the use of fossil fuels and move closer to the decarbonization and sustainable development goals set by the European Union.
Come visit us: discover how to participate in OMC 2023
Visiting OMC is free and open to all interested professionals in the energy sector. On the other hand, participation in technical and strategic sessions requires payment.
To participate, it is necessary to register online as visitors on the official event website and download your entrance ticket in PDF format to present at the entrance for access.
Registration is available until the event's closure.
We look forward to welcoming you at the OMC Med Energy Conference and Exhibition: you can find us at Booth No. 1-517 at the Pala de Andrè in Ravenna from May 23rd to 25th, 2023!