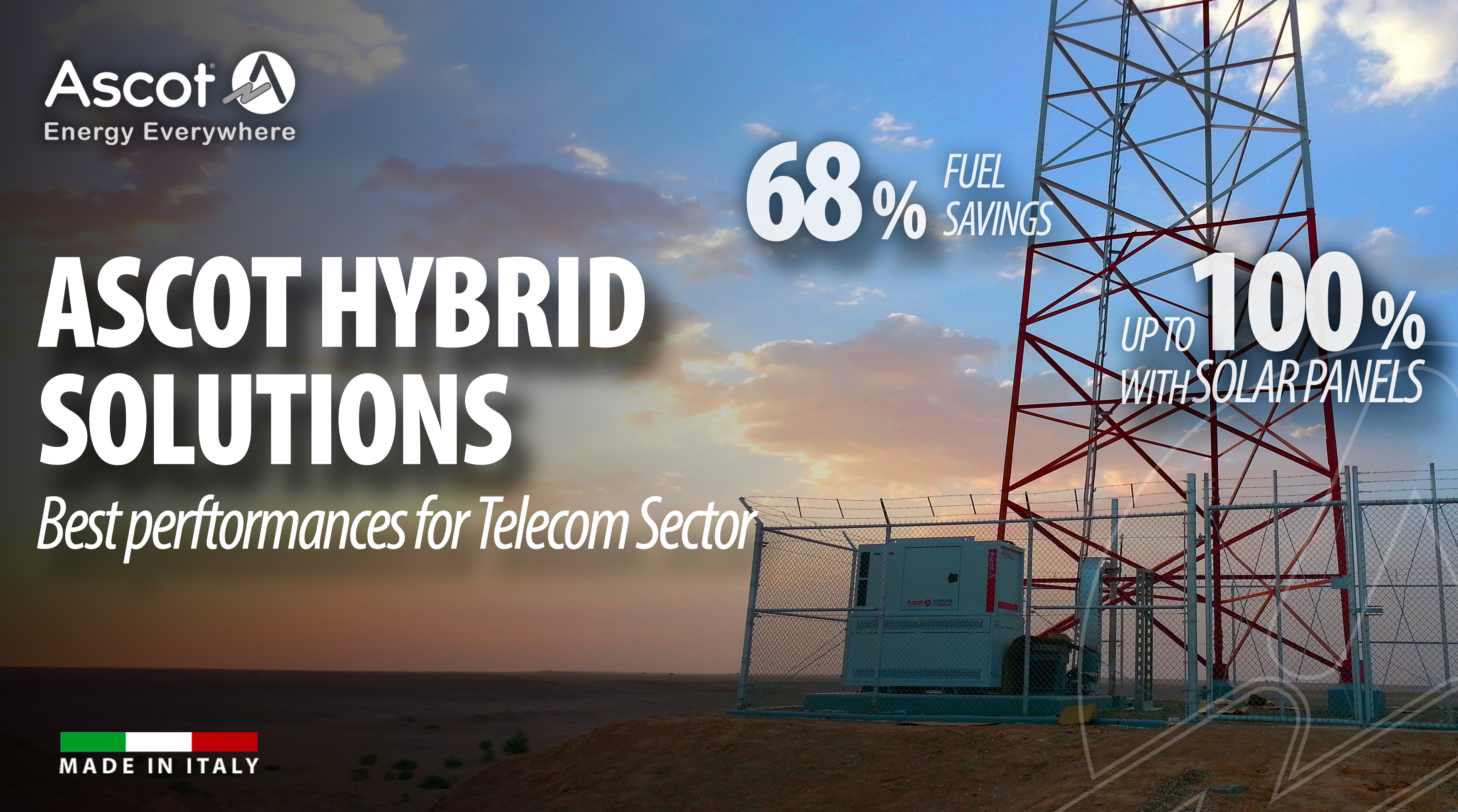 The Advantages of Ascot's Hybrid Generators for Telecom Sites
The advantages of Ascot's hybrid generators: best performance in Telecom Sites
The telecommunications sector is constantly evolving and requires innovative solutions to ensure service continuity and efficiency.
In this scenario, hybrid generators are an effective solution for a continuous power supply.
These are systems that combine different energy sources to produce electricity.
Hybrid solutions have always been part of Ascot's identity: with the first ever hybrid system generatorinstalled in 2007 (Hybrid Power Unit), we are pioneers in the telecommunications sector.
This experience allows us to guarantee tried and tested hybrid products for 15 years more than any other company in the sector.
Our hybrid generators (consisting of engine and batteries) are all-in-one, plug-and-play modules that generate and store the energy produced by the engine.
Compared to conventional systems, Ascot Hybrid generators offer numerous advantages:
Reduced energy costs thanks to the use of renewable energy sources
Lower environmental impact thanks to reduced emissions
Increased system reliability through diversification of energy sources
Flexibility and adaptability to environmental conditions and specific energy needs
The role of hybrid generators in the telecom sector and why they are important
In telecommunications systems, one of the main problems is the supply of reliable electricity, especially in remote areas or in case of emergencies. In many parts of the world, power grids are unstable or unavailable, which makes continuity of service difficult.
In addition, there is a need to respond effectively to the energy crisis and cope with sharply rising operating costs and the need to lower emissions.
Hybrid generators are the leading technology for all needs in the telecommunications sector.
First of all, they ensure greater energy efficiency as they provide continuous power to the communication towers without interruption, even in extreme weather conditions.
Secondly, they ensure a longer genset lifetime and lower operating costs with considerable savings in terms of:
fuel consumption
maintenance intervals
hours of operation
Finally, hybrid generators help reduce the environmental impact of the telecommunications sector. The use of solar energy reduces greenhouse gas emissions and decreases dependence on fossil fuels.
For this reason, many telecommunications companies are turning to hybrid power and many governments are incentivizing the adoption of hybrid generators through financial support programs and tax incentive policies.
This technology is revolutionizing the way communication towers are powered and could have a significant impact on the long-term sustainability of the telecommunications sector.
Let us now discover, in even more detail, the advantages of Ascot's hybrid generators, which meet all the requirements of the Telecom sector.
The advantages of Ascot's HPU hybrid generators for telecommunications
Ascot provides a wide range of hybrid power solutions for all telecommunications needs.
Among them, we want to tell you about the Hybrid Power Unit (HPU).
It is an ideal hybrid power unit for telecommunication sites in Off-Grid (remote/rural) and Bad-Grid areas, where the network is available with frequent interruptions.
The HPU hybrid generator provides the following benefits:
It provides certified fuel savings (diesel, LPG or Natural Gas) of around 68% compared to a conventional genset. Savings that rise to 100% when connected to renewable resources(photovoltaic systems).
It is a full-green system that reduces CO2 emissions significantly, in line with the SDGs goals.

It provides longer service life and increased operating hours, with lower operating costs.

Ascot's Hybrid Power Unit is equipped with integrated IoT hybrid control logic that enables the management of all components and energy sources in real time.
You might also be interested in the article: Difference between Mobile Network Operator and TowerCos and the best solutions
Differences between the hybrid generator and the standard AC generator
As we explained earlier, hybrid generators combine two or more energy sources (solar, wind, hydroelectric, etc.) to produce electricity independently.
In contrast, a standard generator uses only one energy source, such as diesel or petrol, to produce electricity.
One of the main differences between the two types of generators is energy efficiency.
The hybrid generator is able to produce energy more efficiently than the regular generator, as it uses more energy sources to produce electricity.
Furthermore, the hybrid generator is more environmentally friendly than the regular generator, as it uses renewable energy sources. Consequently, it produces fewer environmentally harmful emissionsthan the regular generator.
In numerical terms, Ascot Hybrid Power Units provide significant savings in fuel consumption and operating costs, with improved operation and reduced emissions.
By giving a few practical examples, let us 'see for ourselves' the considerable savings of an Ascot Hybrid Generator.
Assuming a load of 2 kW and with 5 kWp solar, the HPU generator:
runs for 19.7 hours on batteries
engine running hours are 4.3 hours per day
Fuel consumption of 12.8 litres per day
Fuel autonomy for 156 days
Engine maintenance every 230 days
With a load of 4 kW and 5 with solar kWp, the HPU generator:
runs for 16 hours on batteries
engine running hours are 8 hours per day
Fuel consumption of 29.2 litres per day
Fuel autonomy for 69 days
Engine maintenance every 117 days
In comparison, a standard 15kVA AC generator consumes up to 85 litres per day and requires much more frequent maintenance.
Practical examples: The advantages of Ascot's hybrid generators in Telecom Sites
In over 15 years, we have installed our hybrid generators all over the world.
Our HPUs have enabled remote telecommunication sites in Haiti to reduce fuel consumption and have reliable power.
Energy efficiency also in Peru and in the deserts of California, Colorado and Nevada, where our HPUs have enabled off-grid telecommunications networks to be powered.
Another result achieved is sustainability: thanks to the Ascot hybrid generators installed in Telecom offices, Kenya and Morocco have accelerated the spread of Green Energy by lowering their polluting emissions.
Efficiency, cost reduction and sustainability: our expertise in hybrid solutions serving thetelecommunications sector.

Discover Ascot's range of hybrid generators for Telecom Sites!