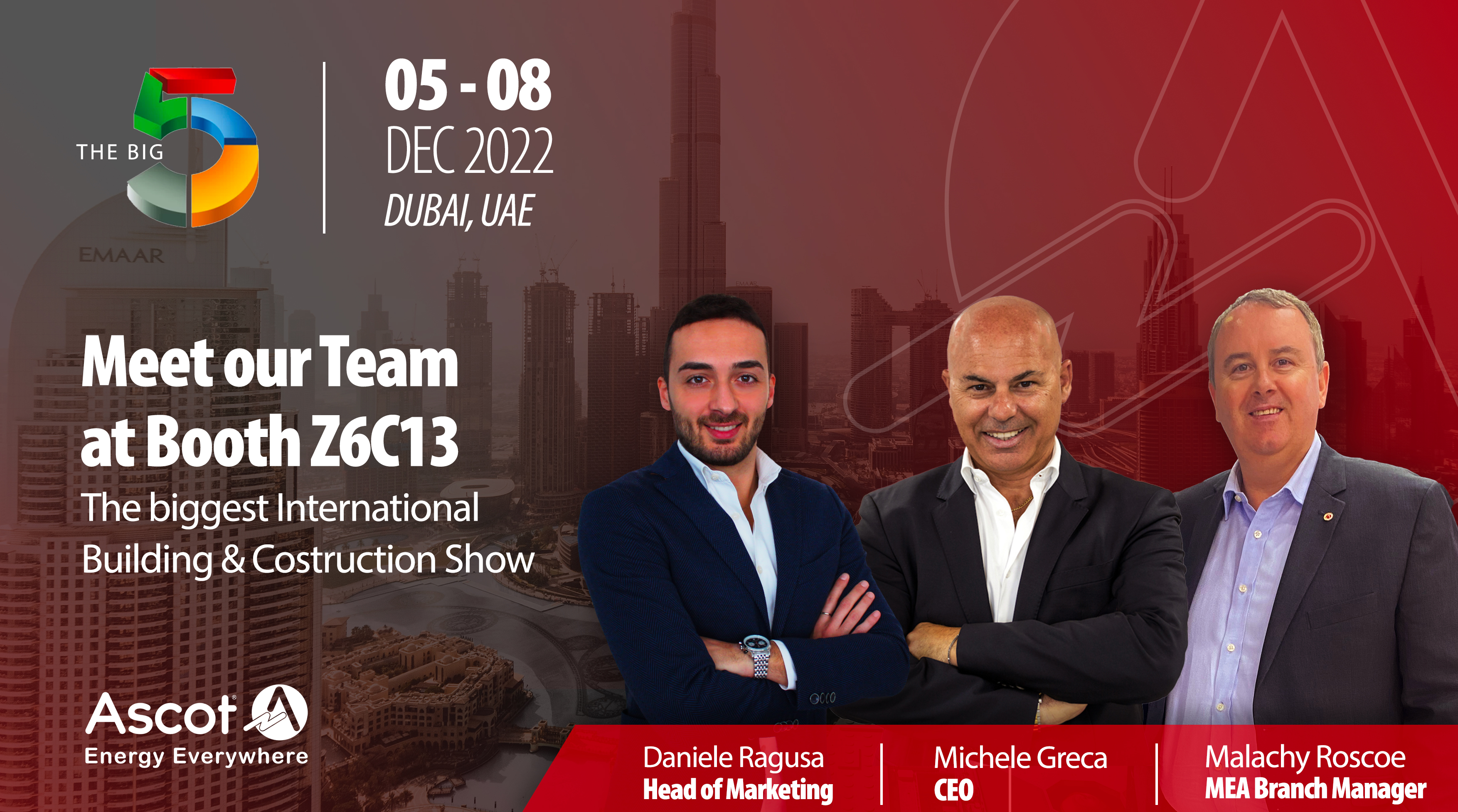 Big5 Dubai 2022, Building&Construction Show
From 05 to 08 December 2022 Ascot will be at Big5 Dubai
After participating in the 2022 edition in Egypt, Ascot is present at Big5 Dubai 2022, the exclusive International Building & Construction Show.
You can find Ascot at Hall 4-6 Stand Z6 C13 at the Dubai World Trade Center, from 5 to 8 December 2022.
It is a 4-day event that will welcome international exhibitors from the entire global construction value chain.
Over 2,000 exhibitors from more than 60 countries and an audience that will approach 55,000 participants from all over the world.
The latest technologies, new products and the most advanced solutions will be presented on fuel innovation and capitalize on the opportunities towards increasingly intelligent buildings.
What is Big5 2022: the global event for the construction sector
Big5 Dubai is the largest and most important event for the building & construction sector in the Middle East, Africa and South Asia.
The international fair is dedicated to materials, equipment and technologies for the building world, as well as a fundamental meeting point between East and West.
The central theme of the 43rd edition will be technology and digitization at the service of the building industry, to maximize efficiency and quality and improve productivity.
Not only that: great attention will also be focused on the integration of sustainability into the core business of the construction ecosystem, with insights into the new ESG and net-zero strategies that can be implemented.
Big5 Dubai, through new technologies, digitization and sustainability, aims to make the building & construction sector future-proof.
Ascot solutions presented at the Big5 Dubai 2022 event
Ascot's solutions are also designed for Home & Construction applications, with savings of up to 100% clean energy from the electricity grid.
Specifically, the solutions proposed by ascot for this sector are 3:
1. Ascot Hybripack: the all-in-one hybrid system, made up of a generator and batteries (and solar panels), with up to 100% clean energy savings from electricity.
2. DC Generator (scattered): the DC generator ready for plug & play, quick and easy to install, super silent to be combined with an Energy Storage already present on site with energy savings from the electricity grid up to 100%
3. Eco Power Box: the energy storage system that allows you to store energy and save up to 100% of clean energy from electricity.
All systems will be controlled by IoT technology. Thanks to this building energy management system, the systems will be controlled in an intelligent and automated way.
All 100% Made in Italy Ascot products and systems aim to promote increasingly sustainable construction, helping to improve:
• Fuel Consumption;
• Energy transition;
• Green Energy;
• Energy management costs;
•Safety;
• Comfort;
• Productivity;
•Energy efficiency;
• Accessibility to energy;
•Savings.
Furthermore, thanks to Ascot energy solutions, achieve the ambitious goals of the World Green Building Council (WGBC) by producing optimal solutions in line with the Sustainable Development Goals 2030-2050. It will also be possible in the Middle East.
Contact us for more information or come and meet us at Big5 Dubai 2022.