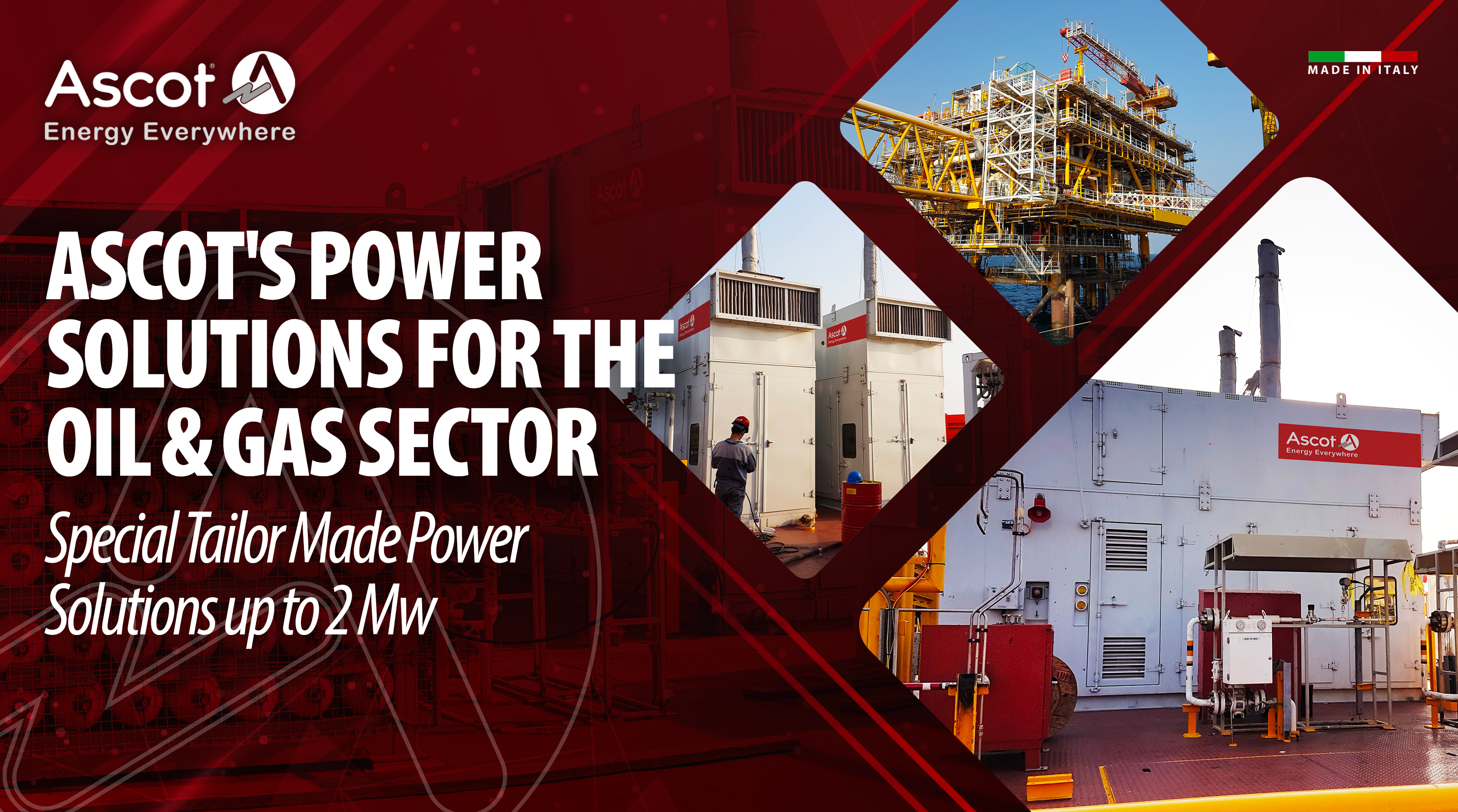 Ascot's Power Solutions for the Oil & Gas Sector
Ascot's Power Solutions for the Oil & Gas Sector
With over 30 years of experience, Ascot stands as a leader in providing energy solutions to strategic sectors that require non-standard designs, such as Oil & Gas. This sector demands reliable and efficient service, even in extreme conditions.
The Oil & Gas industry holds tremendous global power and must act as a driving force towards the future energy transition of the planet. However, this vision is still far from current numbers, as the majority of the demand is still supported by fossil fuels.
The situation must necessarily change to align with the reduction of greenhouse gases and carbon emissions to achieve the goals of the Paris Agreement. In order to make a real contribution to the energy transition, the Oil & Gas industry must effectively invest in new energy sources and more sustainable and efficient energy solutions. In this regard, it is essential that they have solutions that enable a sustainable energy transition for the sector, as well as for society and the environment.
Ascot's Products Designed for the Oil & Gas Sector
Ascot develops specific power solutions for the Oil & Gas industry.
These systems are designed to operate in the extreme conditions typical of this sector, characterized by marine environments, challenging weather conditions, and high fire risk.
Our offshore Oil & Gas solutions offer corrosion resistance, withstand marine atmospheric conditions, and provide a high level of reliability and safety. They are typically equipped with:
Water and moisture protection devices

Flexible and modular power solutions

Remote control for monitoring system operation and performance
Combined with battery storage, they represent an ideal solution for offshore environments where the supply of critical electrical power can jeopardize the proper and continuous operation of oil platforms and associated systems.
They can be powered by Diesel, ensuring reliability, durability, and high power, or by Natural Gas, guaranteeing efficiency and a lower environmental impact.
Our solutions are delivered fully assembled, ready for connection, and easily transportable.
Tailor-Made Solutions for Oil & Gas
Ascot provides high-performance tailor-made solutions designed to meet the complexity of the Oil & Gas sector.
Our B2B model allows us to establish a close relationship with clients by listening to their needs and providing exactly what they are looking for. This customized approach enables us to develop special energy solutions specifically designed to operate in a particular environment and meet specific requirements.
Therefore, we are the ideal partner for creating innovative and customized energy solutions for the oil and gas industry, offering exclusive products and systems that look towards the future and innovation.
Furthermore, as advocates for renewable energy systems, we position ourselves as a company facilitating the ecological transition required by the European Union, even for the Oil & Gas sector.
Examples of Power Solutions for Offshore Oil & Gas
For offshore and onshore pumping and drilling, we have developed a custom generator: the Ascot Petroleum generator. They are built to provide reliable and efficient service, even in extreme conditions, with flexible and modular power solutions.
The base module covers a range from 15 kW to 2000 kW and can operate in standalone or synchronized mode.
These solutions meet specific Oil & Gas requirements, including:
Fire prevention

Acoustic characteristics

Atex and Blast requirements

Control panels in compliance with marine standards and hazardous areas

Prime power and emergency capabilities

Real-time management system
Another customized power solution for the Oil & Gas sector are the DC generators with different powers and voltages.
They are designed for remote and off-grid areas that require 24 Vdc generators to power and control motorized valves along an oil pipeline. These generators are all-in-one units with a hybrid battery management system: photovoltaic batteries + DC generator. They have direct DC power supply (without inverter or converter) and variable speed for better consumption efficiency.
A super silent solution that includes:
Variable-speed DC motor -48 Vdc

LPG, Natural Gas, or Diesel engine

Water-cooled

Real-time management system

Vibration reduction

Anti-theft system and protection against vandalism
Additionally, the DC generators are developed with additional inputs for solar and wind energy, as well as a lithium battery for energy storage. They are compact and lightweight, providing autonomy of 10-12 months with just a 1000-liter tank.
For more information on Ascot's energy solutions for the Oil & Gas sector, please contact us!