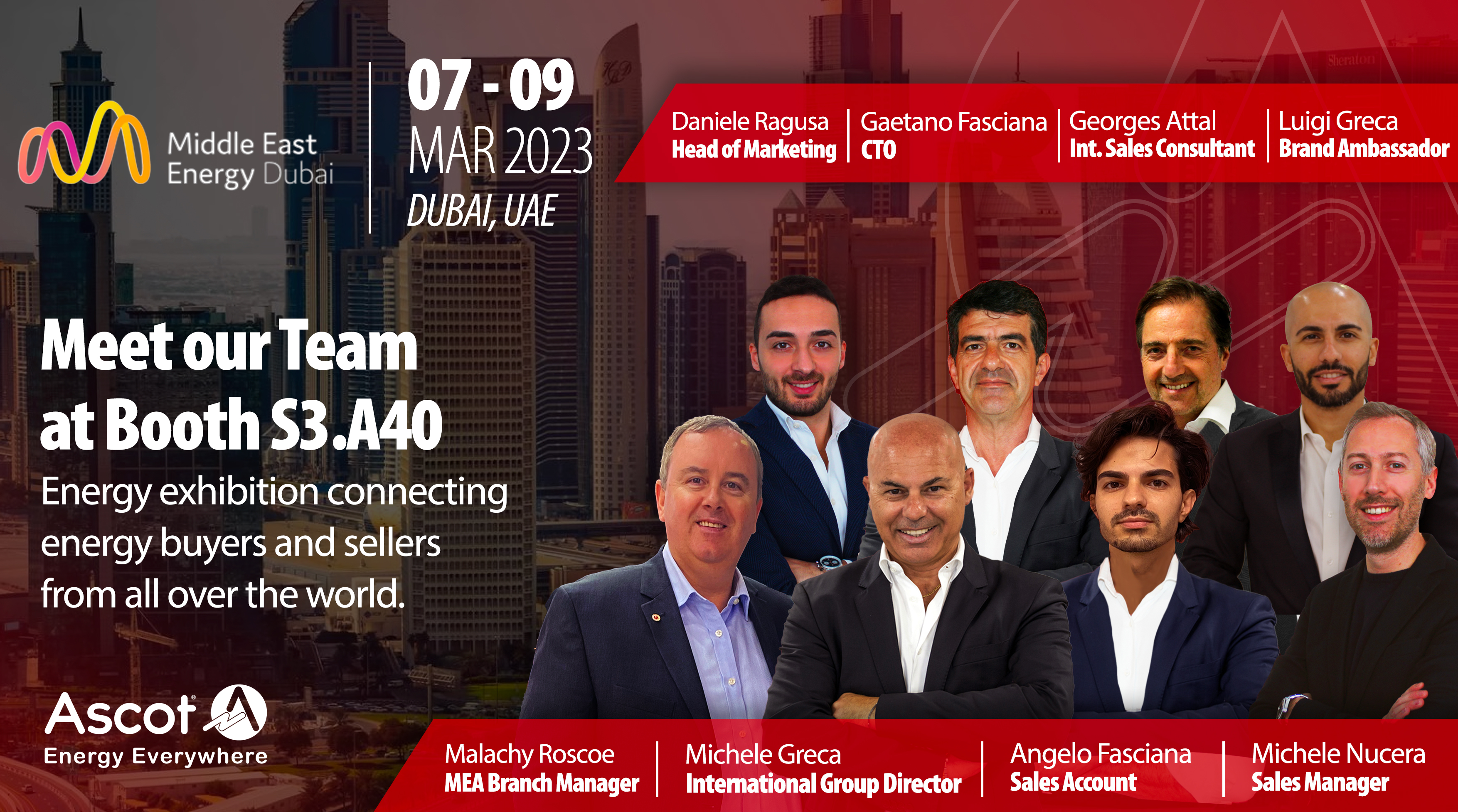 Ascot participates in the Middle East Energy 2023 Exhibition in Dubai
Ascot participates in the Middle East Energy 2023 fair in Dubai
Ascot will be present at the 48th edition of the Middle East Energy fair, the event for the Middle Eastern electrical industry. You can find us at Stand N. S3.A40 of the Dubai World Trade Centre from March 7 to March 9, 2023.
Middle East Energy is the most important energy fair in the United Arab Emirates, and a fundamental event to guide the region through the energy transition.
It is an international event that, for almost 50 years, has brought together companies from all over the world with the aim of:
presenting innovations in the energy, electricity, and renewable energy sectors
exploring the latest progress in energy products and solutions
showing new technologies in the sector and alternative energy solutions
contributing to providing more efficient and effective power systems
In this edition, over 25,000 energy professionals are expected to attend, with more than 800 international exhibitors.
There will be high-level strategic conferences and technical seminars, and important case studies will be presented to inspire participants with concrete and practical solutions.
Ascot at Middle East Energy 2023: the themes of the Dubai energy fair
The Dubai Middle East Energy fair is a reference point in the energy sector for a diverse and sustainable future.
There are five main energy themes that will be addressed during the three-day event:
Smart solutions and digitization

Renewable and green energy

Backup generators and critical power

Transmission and distribution

Energy consumption and management
Smart Solutions and digitization
The Middle East Energy fair will showcase new technologies and tools to digitally transform operations and business models.
The aim is to:
reduce energy waste and consumption

improve energy and operational efficiency

lower production costs

predict equipment failures

improve worker health and safety
This is a fundamental theme in the transition towards a low-carbon energy system. Ascot has moved ahead of the world in this field, integrating the Ascot IoT Suite Platform into all of its systems.
Renewable and clean energy
Another crucial topic is renewable energy, with the Middle East and North Africa (MENA) at the forefront of reducing the cost of these energies.
Solutions from around the world for solar, wind, and hydroelectric energy will be presented.
The goal is to support the green transition towards cleaner energy to reduce carbon emissions and combat climate change.
Since 2007, Ascot has been committed to creating hybrid systems with Co2 reduction of up to 68%, and up to 100% with PV Panels, producing green and reliable energy.
Backup generators and critical power
The issue of critical and backup power is important worldwide.
A targeted and specific action plan is needed, which involves adopting a reliable source of sustainable electricity to achieve continuous operation.
The Middle East Energy fair will present innovative energy solutions and new technologies capable of guaranteeing the zeroing of short and long-term power interruptions, and Ascot's Stand-by generators have achieved very high reliability in terms of quality, noise, and customization, managing to innovate year after year.
Transmission and distribution
The energy transmission and distribution sector needs changes. With an energy landscape in continuous evolution, it is essential to adapt and find new solutions.
We need to move from the "old system" of energy transmission and distribution to a new, more stable, reliable, and intelligent one.
At the Middle East Energy fair, this necessary change will be discussed, as well as how Ascot has been working for years to optimize its systems to make them more intelligent and technological.
Energy consumption and management
The last theme of the Middle East Energy fair will be energy management. Sophisticated and innovative management programs will be showcased to:
measure and optimize energy consumption

save energy

monitor progress in energy savings

achieve maximum energy optimization

reduce carbon emissions

lower costs
In this regard, Ascot has always been at the forefront of fuel consumption, CO2 reductions, and operational cost reduction.
Ascot's motivation for participating in the Middle East Energy 2023 Fair
Ascot's participation in the Middle East Energy 2023 Fair aims to consolidate its presence in Africa and the Middle East.
Not only that: it also allows us to be face to face with the biggest players in the global energy industry. This gives us the opportunity to develop new technological partnerships to create new and increasingly scalable projects.
We will bring our best energy solutions specifically designed for:
residential and civil

industrial

military

Oil & Gas

Mobile & Emergency

Data center

Telecom
These are technologically advanced, reliable, and above all sustainable solutions for generating energy while respecting the environment.
Our mission is therefore aligned with that of the Middle East Energy and the Sustainable Development Goals 2030-2050.
We are committed to promoting the energy transition towards a more sustainable and low CO2 emissions future through clean and renewable energy and hybrid and more efficient energy solutions.
A mission that involves not only our products but the entire Ascot ecosystem: we will present our solutions and products at the Fair, but in a 100% virtual way.
Participants will be able to observe the products, internal components, features, and technical data in detail, using Virtual Reality technology.
The 3D VR allows us to have a Virtual Showroom, reducing the impact on the environment as we avoid transporting the products.
Contact us for more information or come and visit us at the Middle East Energy 2023 Fair in Dubai.